Employment                                     
SOUTHERN ADVENTIST UNIVERSITY seeks full-time teaching faculty for the School
of Music. This position will  provide curricular oversight to
and teach lower- and upper-division courses in area of primary expertise—either music history or music theory. Master's degree in Musicology, Music History, or Music Theory required, doctorate preferred. Full job description, southern.edu/jobs.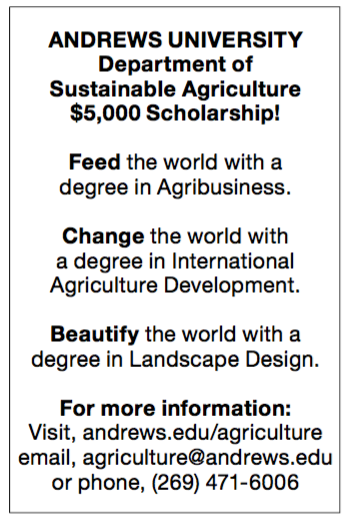 SOUTHERN ADVENTIST UNIVERSITY seeks dean for the School of Education and Psychology (SEP) who is responsible for planning, organization, staffing, direction and evaluation of the academic disciplines of the SEP. The SEP Dean is also responsible for continuous development of the SEP's strategic plan. An earned doctorate in the field of education or psychology is required. Full job description, southern.edu/jobs.
SOUTHERN ADVENTIST UNIVERSITY School of Nursing seeks a full-time faculty to join a mission-focused team. Teaching responsibilities will be primarily at the undergraduate level. An earned doctorate is preferred. Requisite qualities include successful teaching experience, interest in research, flexibility and commitment to Adventist nursing education. The candidate must be a member in good and regular standing in the Seventh-day Adventist Church. Send curriculum vitae or inquiries to search committee chair, Christy Showalter, at cshowalter@southern.edu. SAU School of Nursing, P. O. Box 370, Collegedale, TN 37315. For a full job description, please visit southern.edu/jobs.
SOUTHERN ADVENTIST UNIVERSITY seeks full-time teaching faculty for the Chemistry Department. Teaching responsibilities may be expected to include organic chemistry lectures and labs and chemistry for nursing and allied health majors.  A master's or doctoral degree (Ph.D. is strongly preferred) in organic chemistry (or a closely related field) is required, with demonstrated knowledge of and experience in applying best practices for teaching chemistry at the undergraduate level, and a commitment to teaching from a biblical foundation. Full job description, southern.edu/jobs.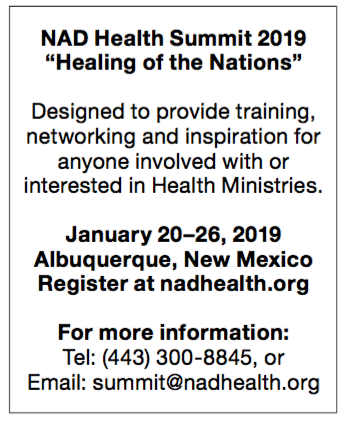 UNION COLLEGE seeks Seventh-day Adventist, full-time nursing faculty member. Teaching and/or clinical experience in medical-surgical nursing and pathophysiology preferred. Additional information can be found at ucollege.edu/faculty-openings. Send CV and references to Dr. Nicole Orian, nicole.orian@ucollege.edu.
UNION COLLEGE invites applicants for a management teaching faculty position. Qualified applicants will have a master's degree in a related field and should be a committed member of the Adventist Church. A doctorate is preferred. Find more information at ucollege.edu/faculty-openings or
contact Lisa L. Forbes at Lisa.L.Forbes@ucollege.edu.
Miscellaneous       
SINGLE? WIDOWED? DIVORCED? Meet compatible Adventists from the USA, ages 18-98. Each catalog provides: birthday, marital status, race, occupation, interests, goals, year baptized and lots more. Safe, confidential, effective and fun! Questions? Send a self-addressed, stamped envelope. For an application and a current catalog, send $25 to SDA Pen-Pals, P.O. Box 734, Blue Ridge, GA 30513.
BLACK HILLS SCHOOL OF MASSAGE: Have you ever considered a career/ministry in massage therapy? Black Hills School of Massage offers a
six-month, 600-hour scriptural- and evidence-based program. Upon completion, students are eligible to take the MBLEx examination to qualify for state licensure. Watch our student video at bit.ly/2pZwmyt, and check us out at bit.ly/2Gyo3zG. Next program begins March 25. Call (423) 710-4873.
Services                                     
ENJOY WORRY-FREE RETIREMENT at Fletcher Park Inn on the Fletcher Academy campus near Hendersonville, N.C. Spacious apartments available now. Ask about our limited rental units and villa homes. Enjoy a complimentary lunch at our vegetarian buffet when you tour. Call Lisa at (800) 249-2882 or (828) 209-6935, or visit: fletcherparkinn.com.
MOVE WITH AN AWARD-WINNING AGENCY: Apex Moving & Storage partners with the General Conference to provide quality moves at a discounted rate. Call us for your relocation needs. Adventist beliefs uncompromised. Call Marcy Danté at (800) 766-1902 for a free estimate. Visit us at apexmoving.com/adventist.
MARYLAND ADVENTIST DENTIST, DAVID LEE, DDS, FAGD, AFAAID, FICOI, FAACP, has practices located in Silver Spring and Columbia, Md. He is extensively trained in implant, cosmetic, TMD/TMJ, sleep apnea treatment, sedation and laser dentistry. Dr. Lee is an Associate Fellow of the American Academy of Implant Dentistry, as well as having many other certifications. For appointments, call (301) 649-5001 or (410) 461-6655. Mention this ad and receive a 10 percent discount on all services, excluding third-party payers. We welcome new patients!
THE CLERGY MOVE CENTER at Stevens Worldwide Van Lines is the way to move from one state to another! Through our national contract with the General Conference, we extend our moving services to all Adventist families. Quality is inherent. Contact one of our dedicated move counselors today for a no-cost/no-obligation estimate at (800) 248-8313 or learn more about us at stevensworldwide.com/sda.
ELTERNHAUS ASSISTED LIVING, QUALITY CARE FOR ADVENTIST SENIORS. Located on 10 acres in the rolling farm hills of western Howard County, Maryland, close to Columbia and Silver Spring. We have specialized in all levels of assisted living for more than 25 years. We provide a homestyle environment and comfortable surroundings with a personal touch! Sit out on our covered south deck or front porch and enjoy the country views. All meals are vegetarian and delicious! Enjoy Friday night vespers, ride to church Sabbath morning, or watch 3ABN and Hope Channel. Contact Tim Mayer for more information and a tour at (240) 286-3635, or email tim@elternhausalf.com.
MARYLAND ADVENTIST PODIATRIST: Dr. Scott Nutter, highly trained, experienced and board certified, is available in several locations to help your foot/ankle problems, including arthritis, heel pain, spurs, diabetes, callouses, ingrown nails, sprains, fractures, warts, bunions, etc. Surgery, if needed, at Adventist hospitals. Offices in Laurel and Maple Lawn/Fulton. Call (301) 317-6800.
TEACH SERVICES: Helping authors make their book a reality. Call (800) 367-1844 for your free manuscript evaluation. We publish all book formats and provide worldwide distribution. View new books at TEACHServices.com or ask your local ABC. View used Adventist books at LNFbooks.com.
BLACK HILLS HEALTH & EDUCATION CENTER: Health challenges interfering with your life goals? Worried that you won't be there to walk your daughter down the aisle? Play with your grandkids? If your bucket list has been reduced to getting up in the morning, why not come to the quiet, healing beauty of the Black Hills Health & Education Center and discover the Pathway to Wellness. We'd love to expand your list! Life's too short to miss it. Call today at (605) 255-4101 or visit bhhec.org.
ANNOUNCEMENTS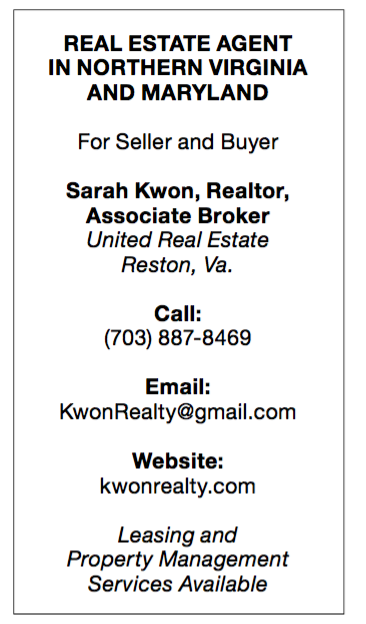 MARRIAGE RETREAT: "Love to Last a Lifetime: Letting God Lead the Way," February 15-17, Dunes Manor Hotel in Ocean City, Md. Barb Jacques will be the presenter of the sessions, running from Friday evening to Sunday morning. For more information, peglites@comcast.net, or contact Mark and Peggy Lee, (301) 801-2344. 
EDITOR'S NOTE: In the December issue, we said that Sarah Frodelly wrote most of the songs on her new album. She only wrote the first song.
Submitted by admin on Thu, 03/27/2014 - 1:23pm