EMPLOYMENT
ANDREWS UNIVERSITY seeks faculty for International Language Studies. This is a half-time position to teach Spanish language courses from elementary to advanced levels. The academic load will be 12–14 credits per academic year, divided into two semesters. No teaching assignment during the summertime. For more information, visit andrews.edu/admres/jobs/show/faculty#job_6.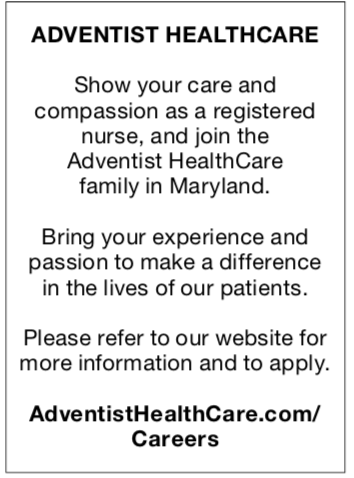 ANDREWS UNIVERSITY DEPARTMENT OF SUSTAINABLE AGRICULTURE DEGREES. Feed the world with Agribusiness. Beautify the world with Environmental Landscape Design. Care for the creatures that share our world with Animal Science. Change the world with International Agriculture Development. See our new Agriculture Education Center at andrews.edu/agriculture; email: agriculture@andrews.edu; (269) 471-6006.
REAL ESTATE
LOOKING FOR COUNTRY PROPERTY: Young married couple with child looking for country property to purchase or possibly rent. Please call Wilner at (301) 792-2882.
NEW MARKET HOUSE FOR SALE: Just six minutes from Shenandoah Valley Academy. Three parklike acres with 310 feet of frontage on the North Fork of the Shenandoah River. Two levels, 2,400 sq. ft., 2 BR, full bath and a full kitchen on each level. Upper level has new kitchen appliances, granite countertop with new paint and flooring throughout. Lower level has walkout. $289,000. Land contract may be available. Phone: (828) 808-7748.
TENNESSEE/GEORGIA REALTOR: Specializing in buying or selling affordable homes in the Collegedale, Chattanooga, N. Georgia or surrounding areas. Howard Karst, Realty Specialists of Ooltewah (423) 238-7325, is your best partner for experienced professional service. Phone: (301) 332-8471, or email tsrak@msn.com. 
SERVICES
MARYLAND ADVENTIST OPHTHALMOLOGIST, PAMELA D'SOUZA-DAVID, MD, is a board-certified eye surgeon with additional fellowship training in glaucoma. She offers routine eye exams, as well as cataract and glaucoma evaluations and surgery. Her office is located in Laurel, Md., and she is accepting new patients. Call (240) 917-2770 for appointments.
TEACH SERVICES: Helping authors make their book a reality. Call (800) 367-1844 for your free manuscript eval- uation. We publish all book formats and provide worldwide distribution. View new books at TEACHServices.com or ask your local ABC. View used Adventist books at LNFbooks.com.
MARYLAND ADVENTIST PODIATRIST: Dr. Scott Nutter, highly trained, experienced and board certified, is available in several locations to help your foot/ankle problems, including arthritis, heel pain, spurs, diabetes, callouses, ingrown nails, sprains, fractures, warts, bunions, etc. Surgery, if needed, at Adventist hospitals. Offices in Laurel and Maple Lawn/Fulton. Call (301) 317-6800.
MOVE with an award-winning agency. Apex Moving & Storage partners with the General Conference to provide quality moves at a discounted rate. Call us for your relocation needs. Adventist beliefs uncompromised. Call Marcy Danté at (800) 766-1902 for a free estimate. Visit us at apexmoving.com/adventist.
MARYLAND ADVENTIST DENTIST, DAVID LEE, DDS, FAGD, AFAAID, FICOI, FAACP, has practices located in Silver Spring and Columbia, Md. He is extensively trained in implant, cosmetic, TMD/TMJ, sleep apnea treatment, sedation and laser dentistry. Dr. Lee is an Associate Fellow of the American Academy of Implant Dentistry, as well as having many other certifications. For appointments, call (301) 649-5001 or (410) 461-6655. Mention this ad and receive a 10 percent discount on all services, excluding third-party payers. We welcome new patients!
TRAVEL
 
ENJOY SOME PEACEFUL TIME IN NATURE: Cabin with loft available for rent on 130 acres in beautiful Southern West Virginia. Secluded, with all the comforts of home. Weekly and weekend rates available. For more information, call (304) 261-4069.
 
ANNOUNCEMENTS                
MANASSAS ADVENTIST PREPARATORY SCHOOL in Manassas, Va., will be celebrating 50 years of service to their community and church October 12. Festivities will begin at 9:30 a.m. Please invite all former staff and alumni by sharing the event page on Facebook, facebook.com/events/319882628794471.
INDIANA ACADEMY ALUMNI WEEKEND, October 9–10, will be conducted at the academy located in Cicero, Ind. There will be a golf tournament Friday, October 9. For reservations, contact Bill Summitt at IAgolfclassic@gmail.com, or call (317) 437-8104. The October 10 Sabbath services will be streamed via YouTube at Indiana Academy Alumni or on the alumni website at iaalumni.org. For questions about weekend events, contact Janet Schalk White at janet.white@earthlink.net.
LEGAL NOTICE
POTOMAC CONFERENCE CORPORATION
THIRD QUINQUENNIAL MEETING
   Legal notice is hereby given, that the Third Quinquennial Meeting of the Potomac Conference Corporation of Seventh-day Adventists will convene at 10 a.m., Sunday, September 27, 2020, at Takoma Academy, 8120 Carroll Ave., Takoma Park, MD 20912.
    The purpose of this meeting is to receive the corporation's 2015-2019 report, elect executive officers, vice presidents, and members of the Executive Committee and other board and committee members; consider recommendations for amendments and revisions to the Constitution and Bylaws of the Potomac Conference Corporation of Seventh-day Adventists as well as Board of Education, Shenandoah Valley Academy and Takoma Academy Bylaws; and to transact such other business as may come before the delegates. 
    The Organizing Committee will meet Sunday, August 23, 2020, at 10 a.m. at the Richmond Evangelistic Center located at 5300 Walmsley Blvd, Richmond, VA 23224. The Nominating Committee will meet Sunday, September 13, 2020, at 10 a.m. at the Potomac Conference Corporation office located at 606 Greenville Ave, Staunton, VA 24401.
William K. Miller, President
Jose L. Vazquez, Secretary
Submitted by admin on Thu, 03/27/2014 - 1:23pm