Columbia Union Adventists Send 10,525 Personal Care Kits to People Impacted by Hurricane Harvey
September 12, 2017 ∙ by vmbernard ∙ in Columbia Union News, Allegheny East Conference, New Jersey Conference, Pennsylvania Conference
Story by V. Michelle Bernard / Photos by LaTasha Hewitt and Minnie McNeil
Last weekend Columbia Union Conference members and students packed 10,525 personal care kits for those impacted by Hurricane Harvey in Texas.
Organized by the Columbia Union Adventist Community Services (ACS)/Disaster Response team, a majority of the volunteers gathered at Pine Forge Academy (PFA) in Pa. Students and staff from Allegheny East Conference's (AEC) PFA and Jessie R. Wagner Adventist School, also in Pine Forge, and Pennsylvania Conference's Blue Mountain Academy in Hamburg and Reading Junior Academy, packed 9,600 personal care kits, funded by Adventist Disaster and Relief Agency (ADRA), with personally signed notes of encouragement, some sent by students at AEC's Calvary Seventh-day Adventist and Theresa Brinkley Christian Home schools in Newport News, Va.
Students also assembled 1,000 children's packages containing a stuffed animal, coloring books and crayons, donated by Florida Hospital. Members from AEC's Walnut Street church in Pottstown and Willow Grove (Pa.) church, and members of the community, also helped with the project, reports Minnie McNeil, (ACS)/Disaster Response coordinator for the Columbia Union and ACS director for AEC.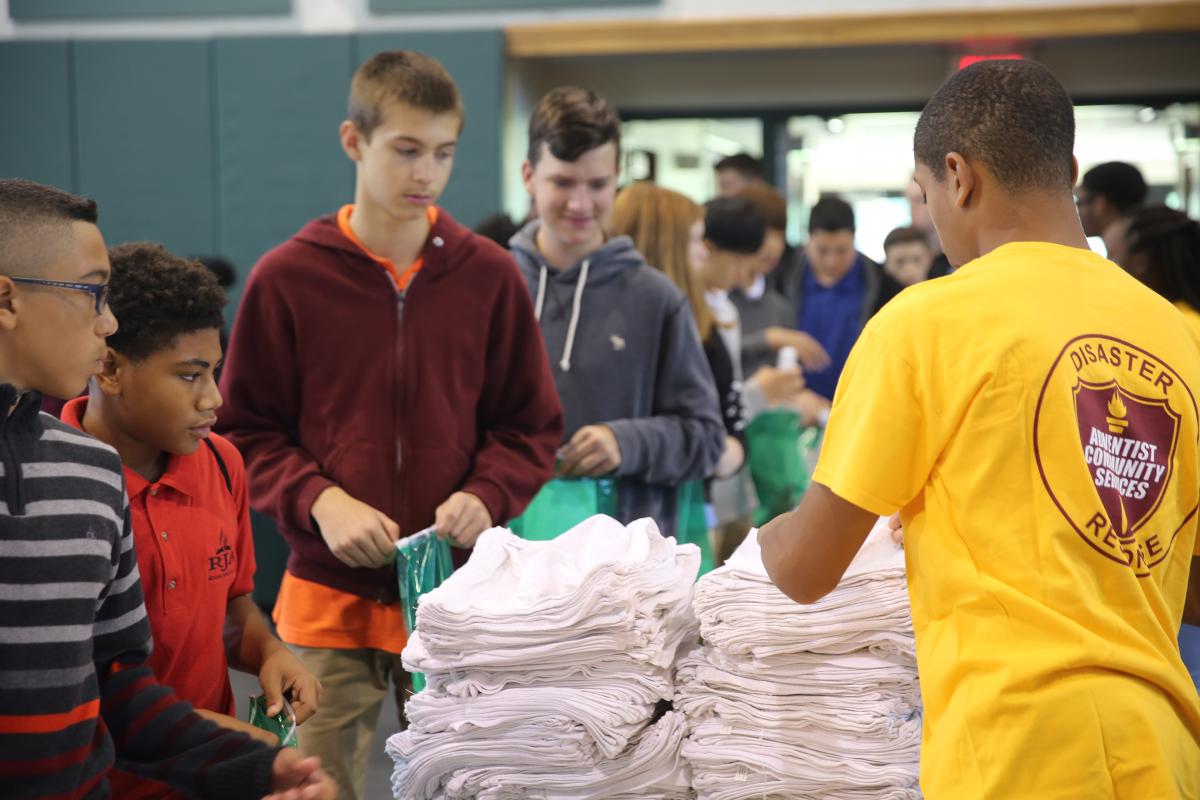 "It was great," says Dongxun Wu, a Blue Mountain Academy freshman. "I feel like we all worked together for the benefit of the people that were affected."
McNeil noted a strong feeling of members wanting to help, with many projects popping up at churches and schools across the union, including a group of six churches that packaged 325 personal care kits funded by the New Jersey Conference.
McNeil has already reached out to the Southeastern Conference in Florida to determine their future needs following the recent storms in Florida. In the meantime, she is requesting churches with flood buckets supplied by the North American Division ACS to start filling them now. Visit the Allegheny East Conference's Adventist Community Services website for a list of the requested flood bucket items. She notes that donating cash is the best way to help. Donate here.
"These disasters are going to happen in quick succession and this is a period of preparedness," says McNeil. "The more people are aware and engaged, the more people can help. [In a disaster] it is much easier to carry that burden when you aren't there by yourself."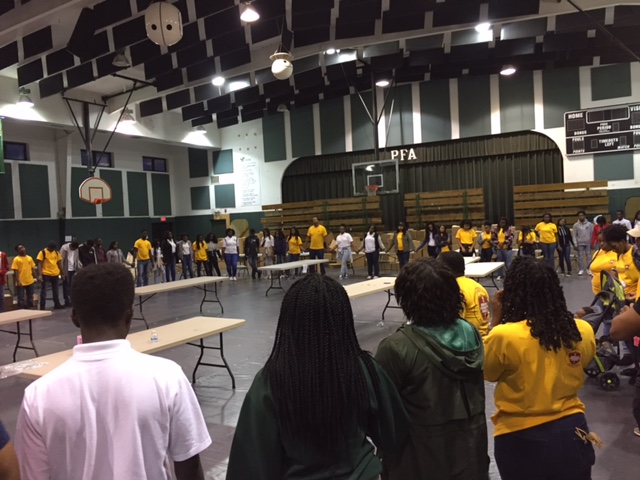 "Students from PFA, BMA, Jessie R. Wagner Elementary and Reading Junior Academy pray together and sing after completing their task. Photo by Minnie McNeil