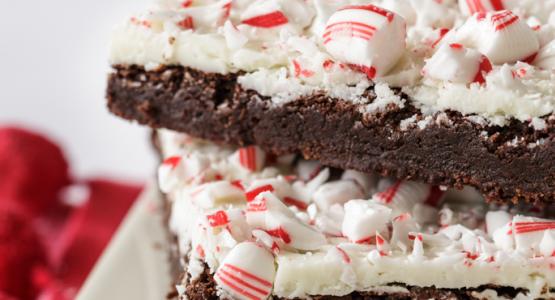 Peppermint Bark Brownie Recipe
December 06, 2018 ∙ by vmbernard ∙ in This Month's Issue
Jackie Gonzalez-Feezer, a member of Chesapeake Conference's Ellicott City (Md.) church, shared the recipe for the peppermint bark brownies featured on the cover.
Peppermint Bark Brownies
Makes 12-15 brownies
Ingredients
1-1/2 cups semi-sweet chocolate chips
1 stick unsalted butter (or margarine)
2 cups sugar
1 cup cocoa powder
1/2 cup almond flour
1/4 cup coconut flour
1-1/2 teaspoons baking powder
Pinch of salt
3/4 cup milk (dairy or non-dairy)
1/2 teaspoon peppermint extract (optional)
10 oz. white chocolate, melted
1/2 cup crushed candy canes
Instructions:
Pre-heat the oven to 350° and grease a 9×13 pan.
In a microwave-safe bowl, combine the chocolate chips and butter, and microwave at 30-second increments, stirring after every 30 seconds, until the chocolate and butter are melted.  Stir until smooth, and set aside.
In the bowl of your standing mixer, on low, mix together the sugar, cocoa powder, almond and coconut flours, baking powder and salt until combined.  Beat in the melted chocolate on medium speed until mixed into the flour mixture.
Add the milk and peppermint extract, and beat on medium speed until combined.  The brownie batter will be slightly thick.  Pour the brownie batter into the prepared baking pan, and use a spoon or offset spatula to smooth the top of the brownie batter and spread it to the corners of the pan. Bake the brownies at 350° for 50 minutes, until the center is slightly set.  Remove from the oven and let cool completely.
Once the brownies are cool, pour the melted white chocolate on top, using an offset spatula to spread the white chocolate on top of the brownies.  Immediately top with the crushed candy canes.  Let the white chocolate set at room temperature (or in the fridge) before serving.  Can be refrigerated or frozen before enjoying!
Vegan Option
Instead of 1 stick unsalted butter:  1/2 cup coconut oil, room temperature
Instead of 2 cups sugar:  1.5 cups coconut sugar
Bake time: 35-40 mins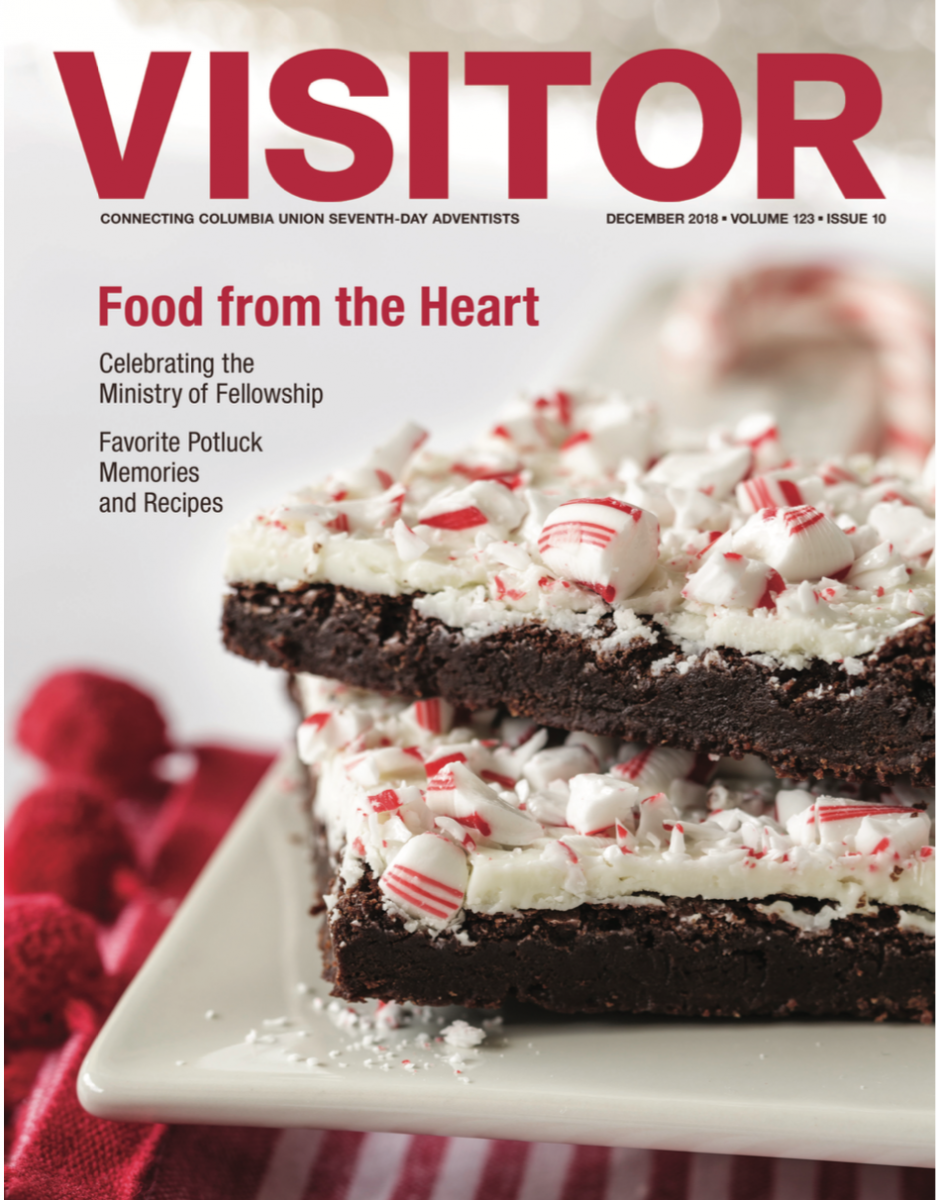 Read these stories from the December 2018 Visitor: