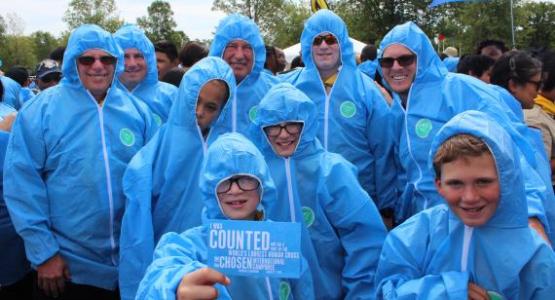 7,000 Columbia Union Pathfinders Attend #2019Chosen International Pathfinder Camporee
August 19, 2019 ∙ by vmbernard ∙ in Columbia Union News, Pathfinders, This Month's Issue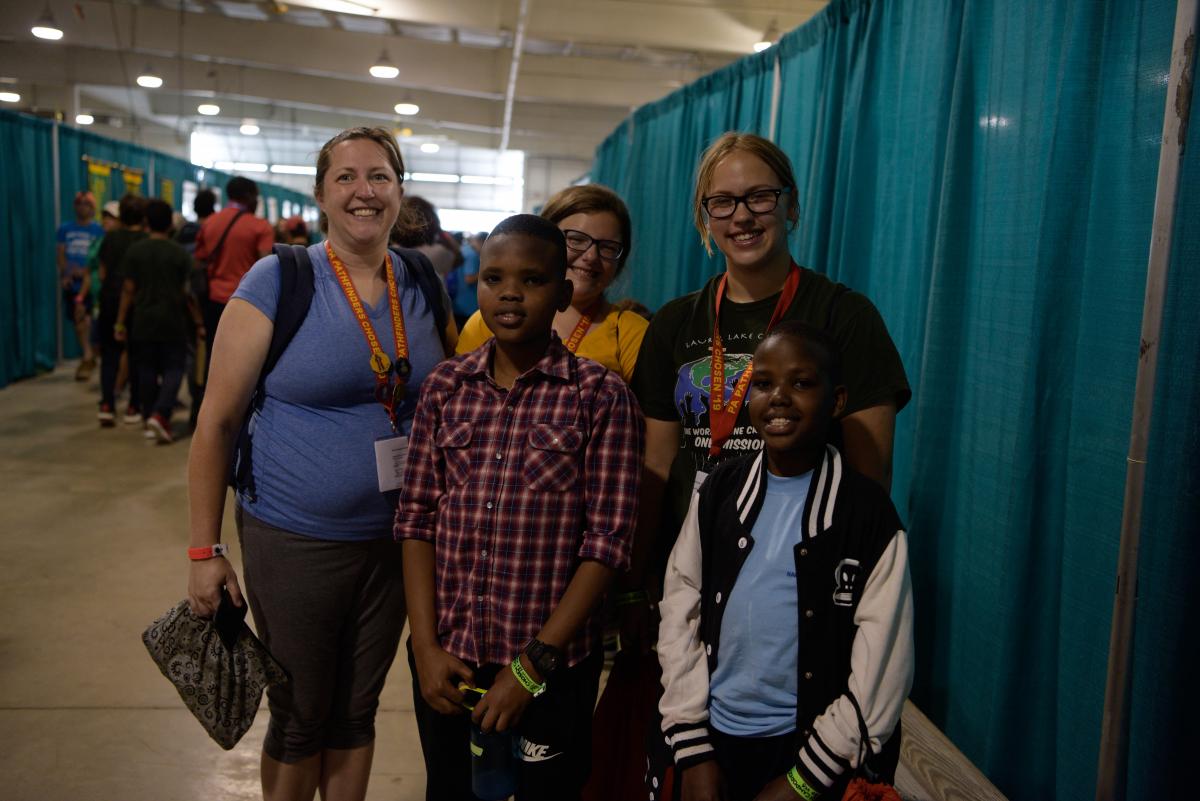 Story by V. Michelle Bernard / Images by Bernard, Ben Dalusong and Sonja Berg-Hults
When asked what their favorite thing about the 2019 International Pathfinder Camporee, themed "Chosen," most Pathfinders will answer: pin trading and getting to know new people. This August 12–17, some 55,000 Pathfinders, including more than 7,200 from the Columbia Union Conference, gathered in Oshkosh, Wis., many of them getting the opportunity to meet Pathfinders up close from around the world.
For the last four international camporees, Pennsylvania Conference's Valley View Club from the Mt. Jewitt and Derrick City churches has hosted an international club. This year they provided tents, equipment and food at their campsite for two Pathfinders and a parent from Kenya. Allison Rettger (pictured with some members of her club and guests from Kenya), a counselor, says it's great for her club of nine kids because it allows the children to learn about a new culture. "We're in a very rural area of Pennsylvania. So, this broadens their horizons so they get to learn about another part of our world."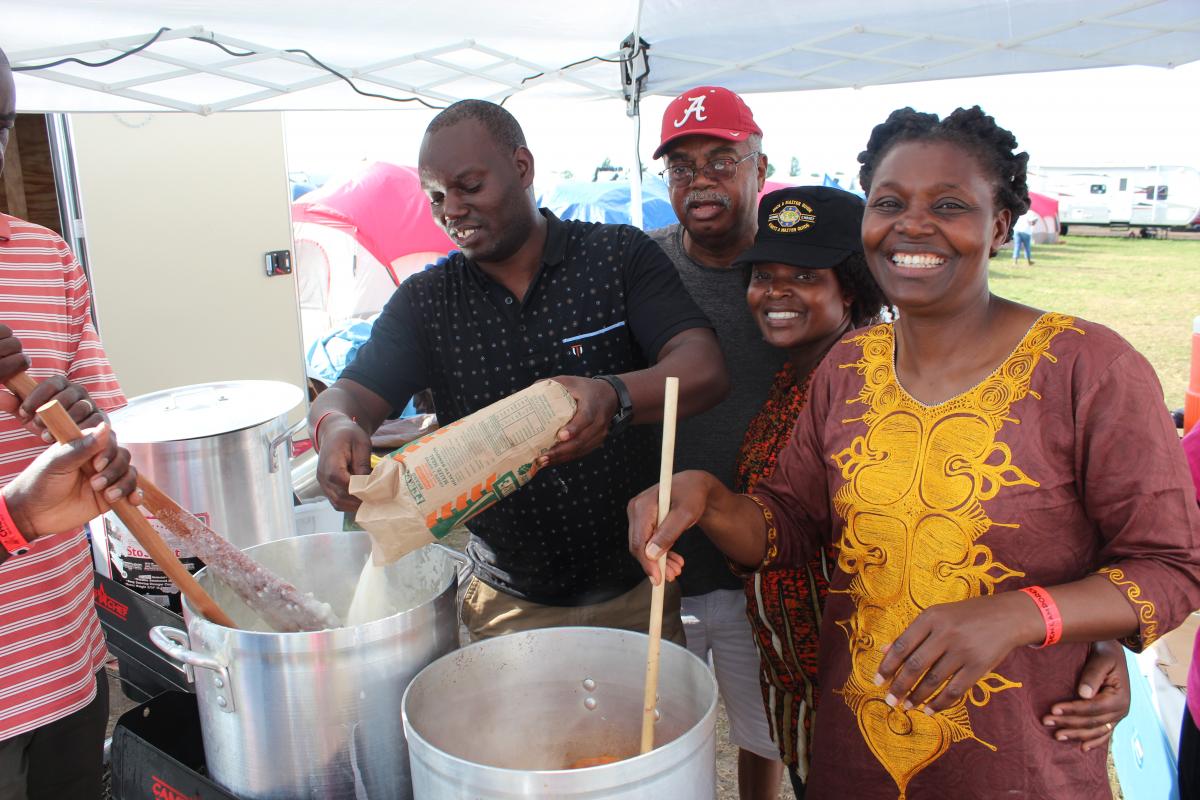 Potomac Conference's Rockville (Md.) Club hosted the Flying Marine club with 165 members from Nairobi, Kenya, and a few Pathfinders from Jamaica and Alabama. The clubs also shared a campsite and meals, both of the American and Kenyan flavors.
Steve Owens, the Rockville club cook for the last three camporees, says the event was a cultural exchange between clubs' members. "We've learned a lot about their foods and ... [the] native dances they've done," noting that Kenyan club staff also cooked several of their traditional dishes like ugali, a cornmeal porridge, as well as amaranth and lentils, while the Rockville staff shared a North American favorite— haystacks.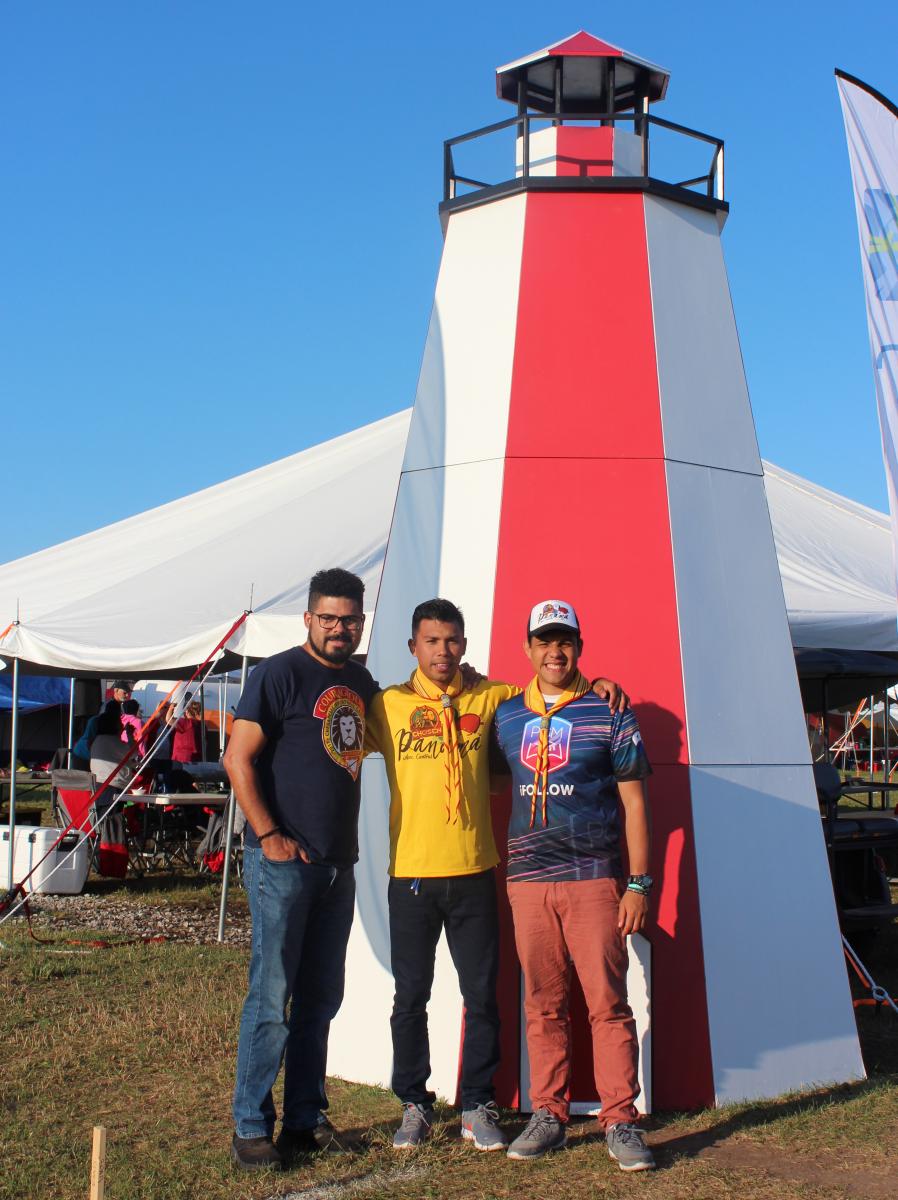 "Just talking with everyone and learning about their experience and how God has brought them this far, has been a learning experience for all of us," says Owens.
Other clubs hosted Pathfinders from Italy, Panama (two pictured with a member of Chespeake Conference's Highland View church club), Malawi, Ghana and the United Kingdom.
For those Columbia Union clubs not hosting Pathfinders on their sites, pin trading helped ease them into conversations with others from places as far away as Mongolia and Dubai. Before attending the camporee, Diana Morales, a member of Potomac Conference's Langley Park Spanish club in Maryland, says, "I thought [pin trading] was the most boring thing in the world. I did not think I was going to get into it." Instead, she left the camporee with 30–40 new pins. A new self-described trading addict, she doesn't know what changed, but now, "I just see a pin. I think it's pretty, and I just have to have it. It doesn't matter. ... That's the only thing I need at that moment."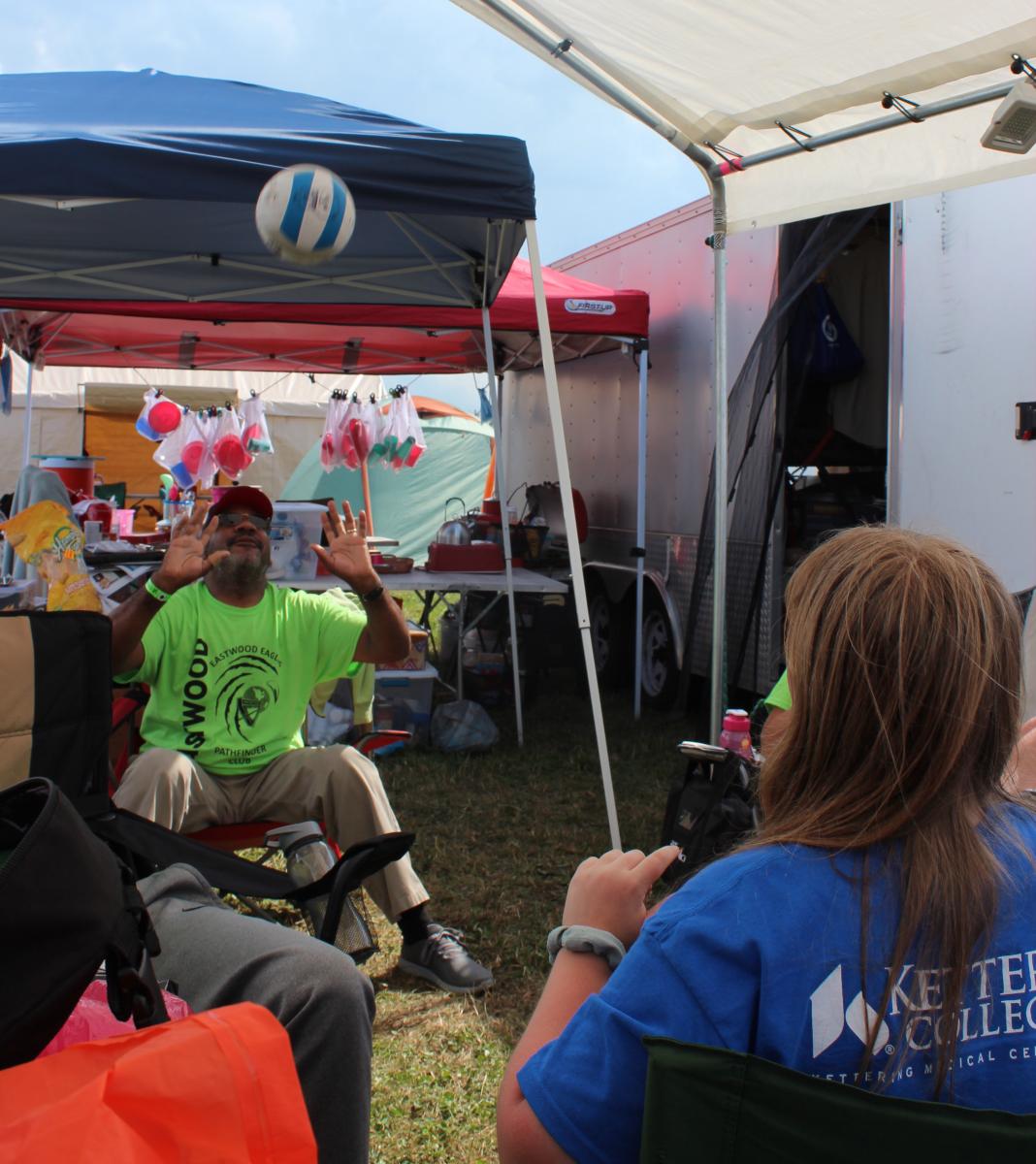 Pin trading lengthened the trek from the Columbia Union's designated camping area, the site farthest away from the main stage that held nightly meetings.
Malcolm Thomas (pictured right), director of the Ohio Conference's Columbus club, says the pin-trading hobby turned the long trip from their campsite to the main activity area—a mile-and-a-half to the drill competition area—into an hour-and-a-half walk. "But that is what we're here for. ... With pin trading, no one is a stranger anymore. Everyone is a friend with a common goal."
Chosen to Serve
Pathfinders also had the opportunity to go into the community and volunteer at local nonprofits like the Salvation Army, food banks, a local library and more. New Jersey Conference's West New York club painted, cleaned and reorganized items at Habitat for Humanity's ReStore in Fond du Lac. Crystal Mar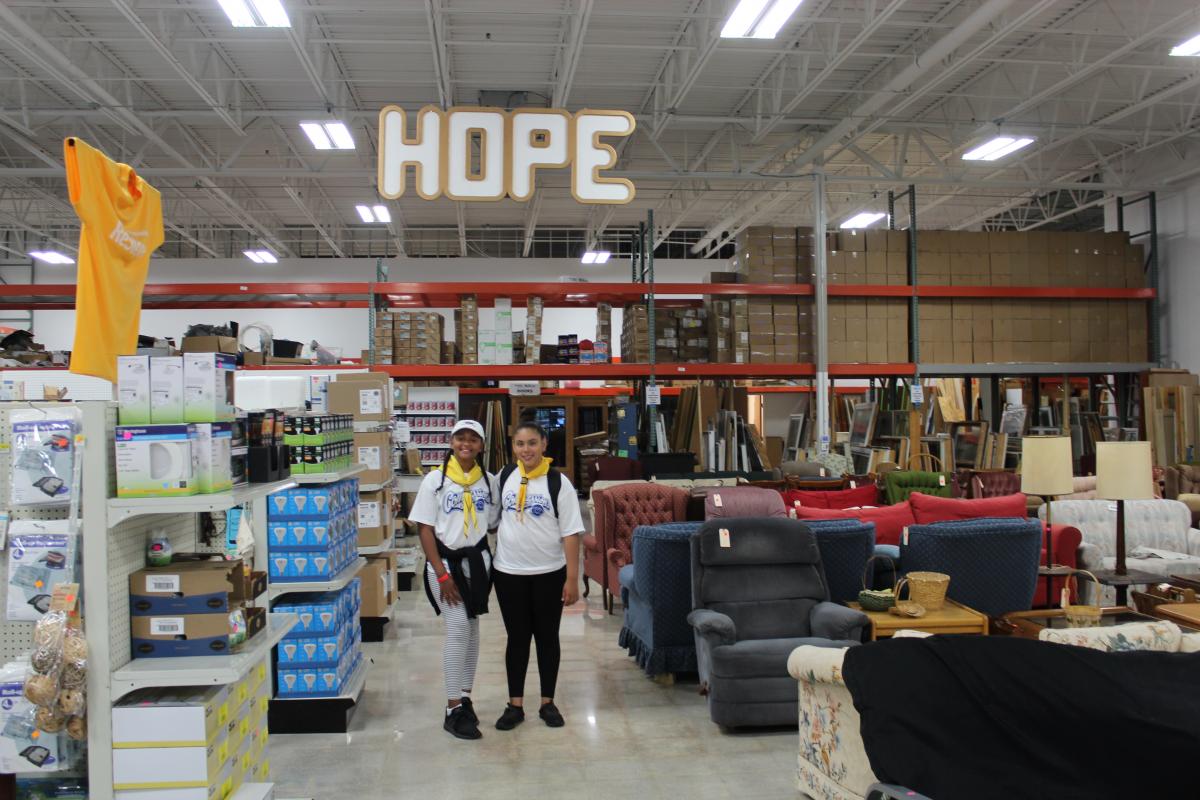 k, the assistant store manager, said the volunteers helped expediate their reorganization project that had a six-month timeline. She thinks they can now get it done in a month or two at the latest.
"I like helping because it gives me a nice feeling that I did something good," says Annabelle Perez (pictured above, left with Sophia Campoverde), who also enjoys pin trading and all the fun honor options at the camporee that are harder to do back at home, like the lumber honor.
She adds that at the evening meetings, they learned more about David's story. "About what God and Jesus did for us, and today we learned how to help others, which is what Jesus also did."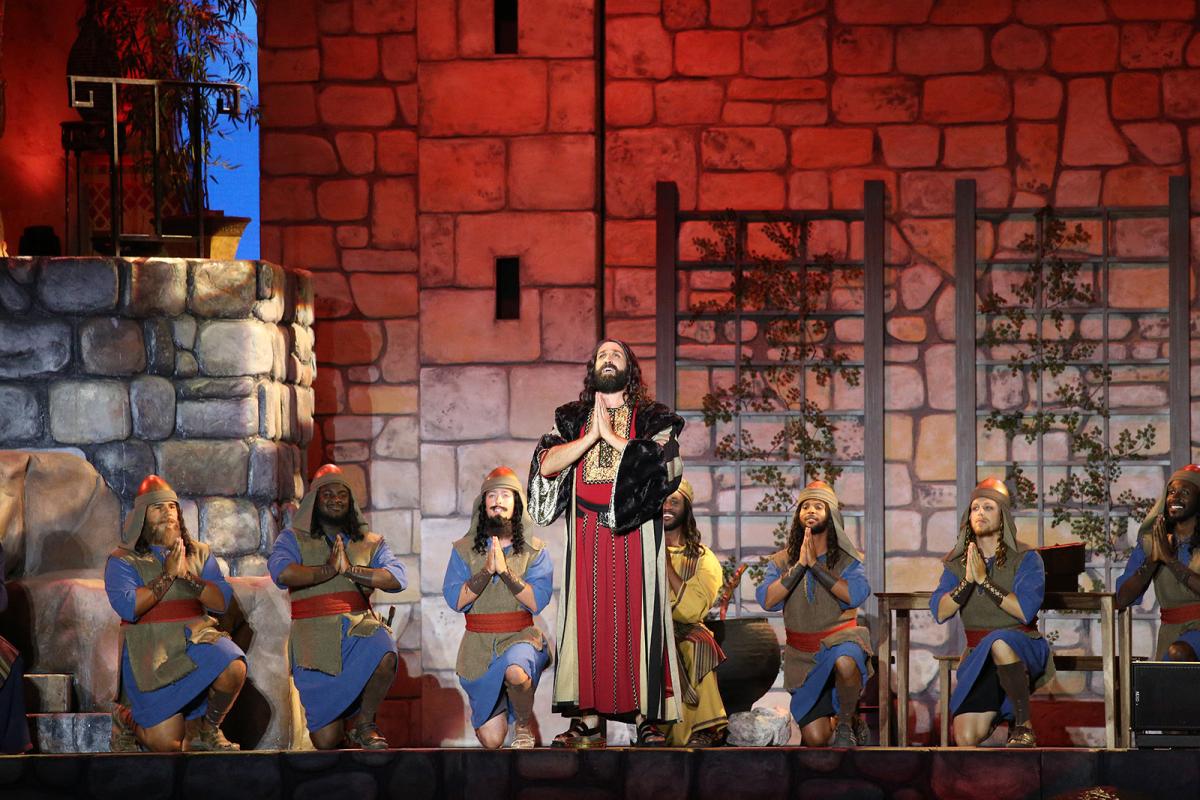 Each night actors shared a 30-to 40-minute dramatic production, highlighting David's life up until he finally become king of Israel, something for which he waited 15 years. Through the production and speaker Damian Chandler's nightly messages, Pathfinders were reminded that God sees them; to trust in God; to stop struggling; to let God save them; to wait on God; that all are chosen; and to choose and obey God.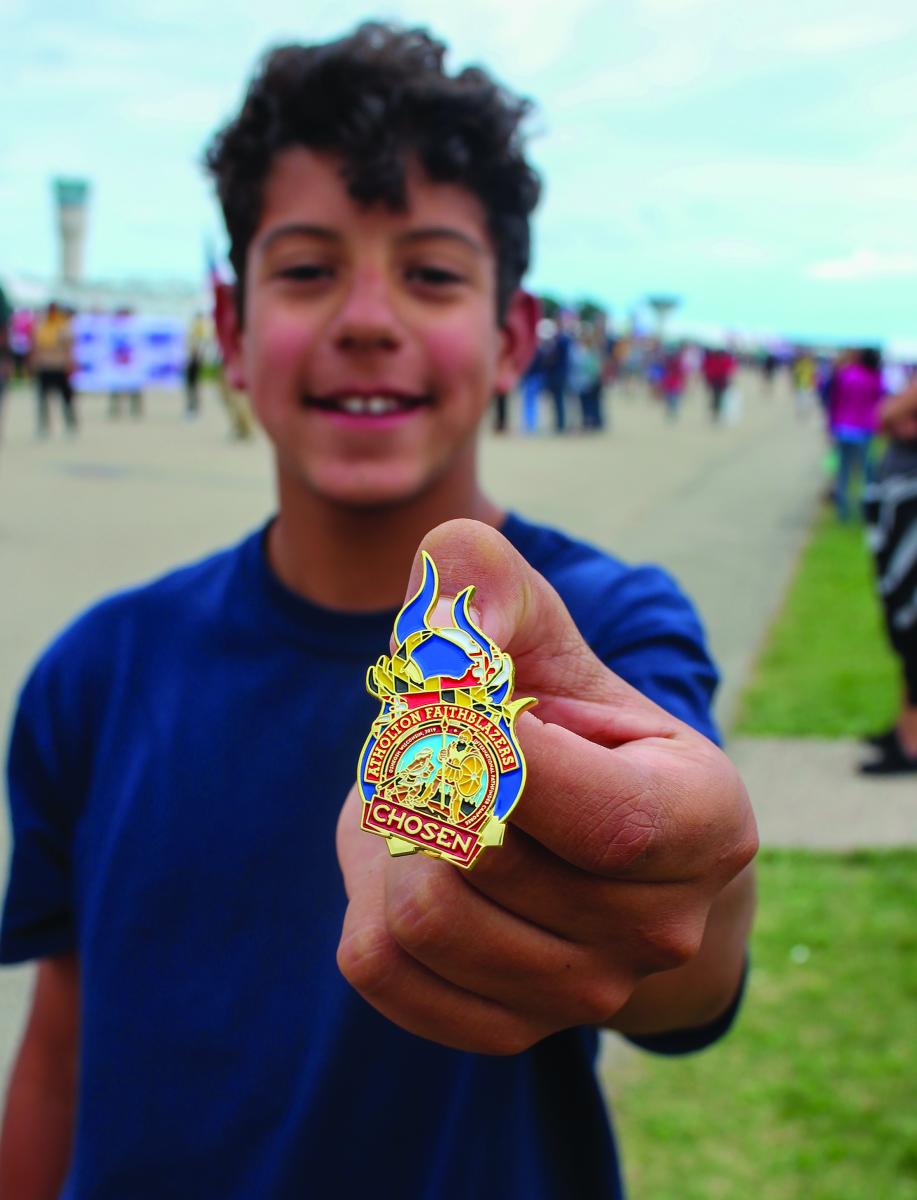 "Well, I think that like especially nowadays people feel like they don't mean anything to
anyone. They're a nobody ... with an arbitrary existence. [The speaker's message] really gave meaning to life. You're like, God placed me here for a reason. I'm not here for no reason. He's chosen me. I have a job to do. I'm not just wandering around," shared Derek Feitosa, a member of Chesapeake Conference's Atholton club from Columbia, Md.
Chandler, senior pastor of the Capitol City church in Sacramento, Calif., also charged the crowd to choose God at home. "You have a choice to be Saul or David, [both chosen by God]. And you have a choice to follow God, to give Him your whole heart, your whole life, or to follow the enemy. ... We don't live in Oshkosh, don't live in arenas filled with 50,000 worshippers. We go back to our churches where there are 20, 30 or 40. We go back to our high schools where we have to walk down the halls and probably be the only believer [in] the hall," says Chandler, who received a thunderous res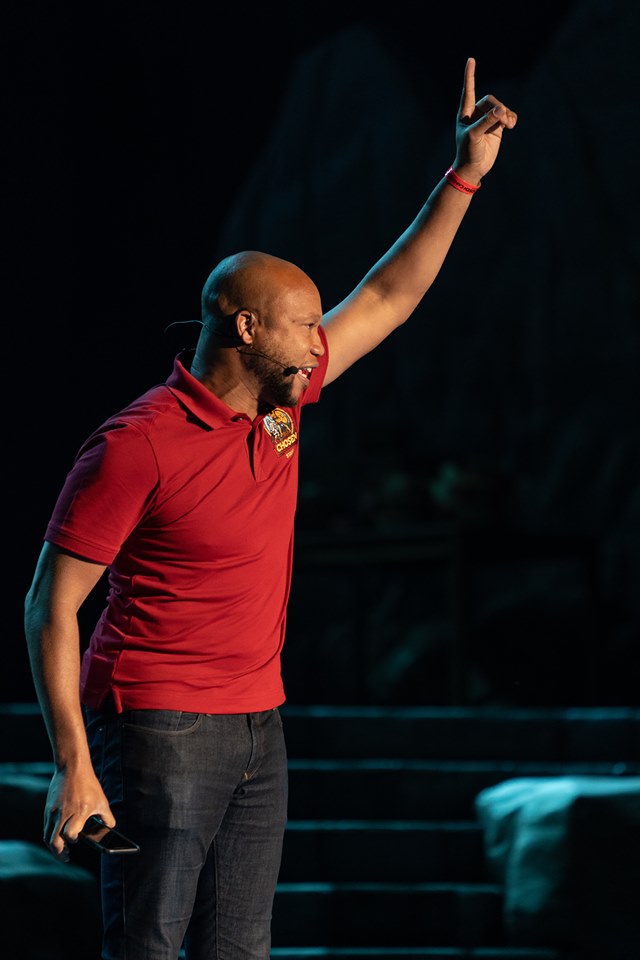 ponse of "I am chosen," when he appealed to the crowd if they wanted to choose God during the last meeting.
A Special Camporee Moment
Chandler's message hit a chord with 1,311 baptisms throughout the week, including 75 from the Columbia Union. (Some had already made decisions to be baptized at the camporee, while others made the decision while attending.)
The evening meetings also featured the talents of Pathfinders and worship through music.
Christian ventriloquist and comedian Ryan Bomgardner and his puppet, Lily the Lamb, also shared Bible stories and a quiz with attendees.
On Wednesday night, he called Maricris España, a member of the Langley Park (Md.) Spanish Conquistadores Club, to the stage to ask her Bible trivia questions. She was asked a question she (and the crowd) didn't expect.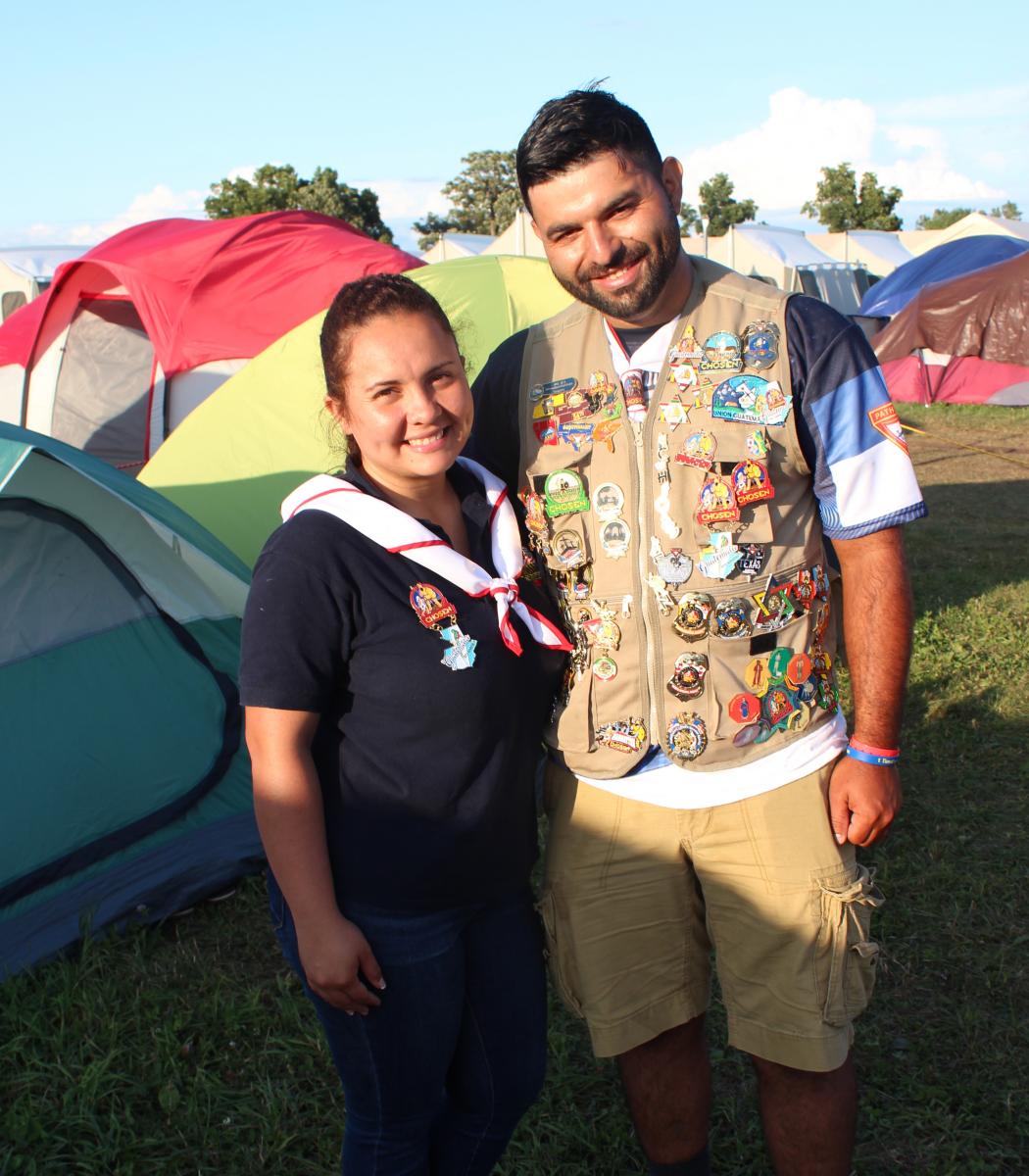 After one easy question, Bomgardner told her the second question had never been asked on a Pathfinder Camporee stage. He asked her to turn around, and
she saw her boyfriend, Irvin Josue Jacinto Miranda, of more than two years, on bended knee.
España said, "Yes!" (Read their story here.)
Miranda said he started planning the proposal five months ago when he messaged Pastor Ron Whitehead, director of the camporee and the Center for Youth Evangelism, on Facebook, asking if he could propose on the main stage. Miranda says that up until the day of the proposal, only Whitehead and a few other staff members knew about the plan. But he eventually enlisted the help of his uncle to convince España to get on stage.
A Lasting Impact
Katia Coley, a member of Chesapeake Conference's New Hope church in Fulton, Md., and a Seventh-day Adventist since last year, enjoyed worshipping with 50,000-plus people each evening and celebrating their club's 11 baptisms during the Wednesday evening meeting. Her son, Jonathan, though not baptized at the camporee, chose to be baptized recently, due to the things he's learning in their Pathfinder club, she says.
"At [Pathfinder] age, I wasn't even thinking about [spiritual things]. But, when you have been taught and are surrounded with people encouraging you, and it's fun, it makes it so much easier to make that decision.
I personally wish I had that growing up," she says.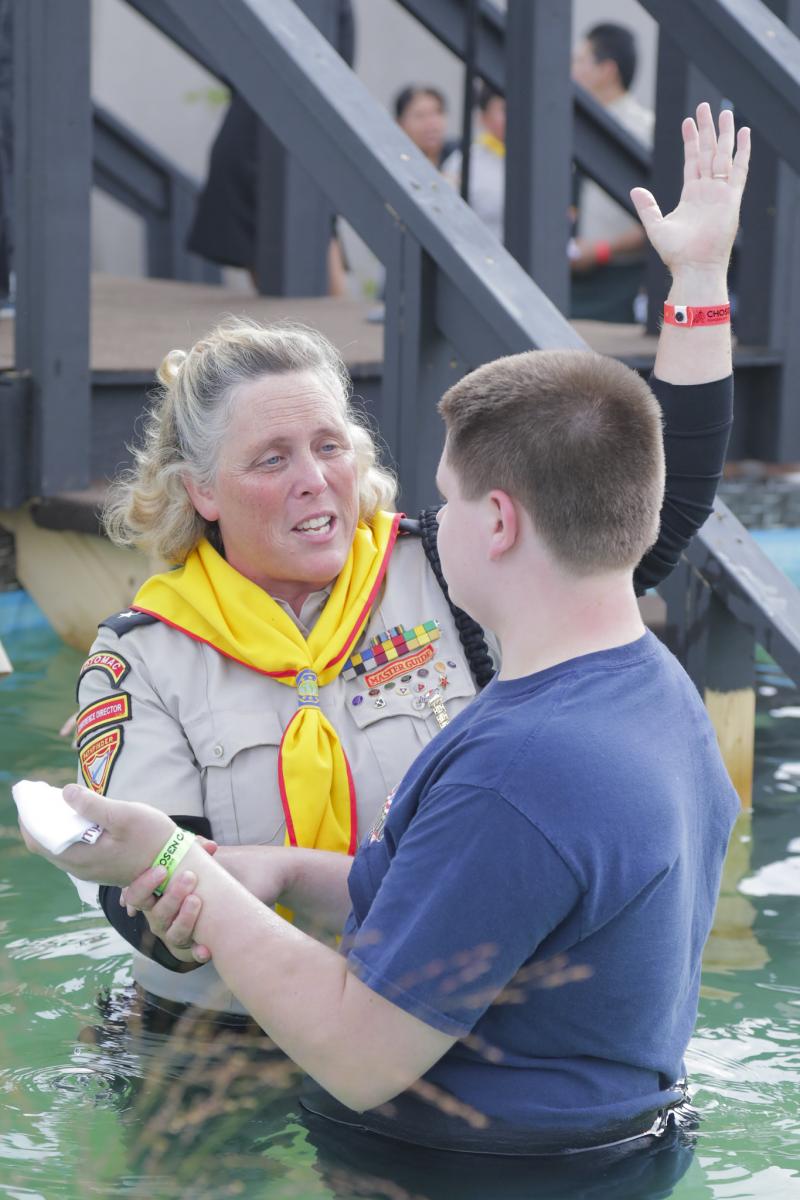 Sherilyn O'Ffill (pictured left), Columbia Union coordinator at the camporee, hopes that the efforts made at the event and back at the respective clubs will continue to influence the Pathfinders.
"The message that each one of us is chosen by God [will] have an impact on our world, our church, our clubs, and on our kids. ... As long as our local club leaders and church pastors follow up with the decisions that were made, and follow up with continuing conversations, we'll see a long-term connection point with our local churches."
Read these other stories from the Camporee: