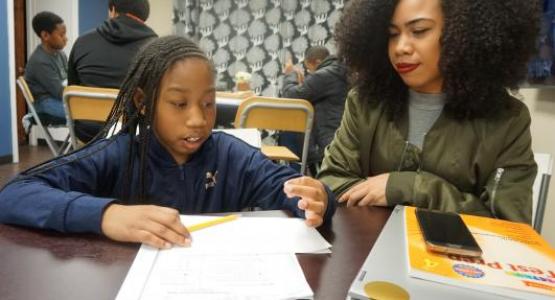 Church Helps Children REACH Success
June 12, 2019 ∙ by vmbernard ∙ in Pennsylvania Conference
Story by LeShawn Browne
Logan is a second-grader who struggled with reading. He lacked confidence in his ability and was way behind other students in his class. Then his mom discovered the REACH Success tutoring program, launched by the REACH Philadelphia church in 2014, which partners volunteers with students who need help with their schoolwork.
"There was a huge dropout rate in our community. Many young people who had nothing to do with their time were on the streets. They were involved in drugs, gangs," shares Angel Smith, pastor of REACH Philadelphia. "We made up our minds that we needed to start a kid's program. We decided to tutor grades K-8 after asking the local police department what we could do about this situation in our community. They told us we need to start reaching out to kids early because it's very hard to make an impact once they reach high school."
Currently eight volunteers meet students every Tuesday and Thursday at the REACH Life Hope Center in Philadelphia. Logan's mom recently showed REACH leaders Logan's report card. Since he has been receiving tutoring from REACH Success, Logan has gone up a whole letter grade in his reading class. Volunteers are encouraged by his improvement and the impact the program has had on other students currently being tutored.
To volunteer or learn more about this program, visit reachphiladelphia.org/reachsuccess.