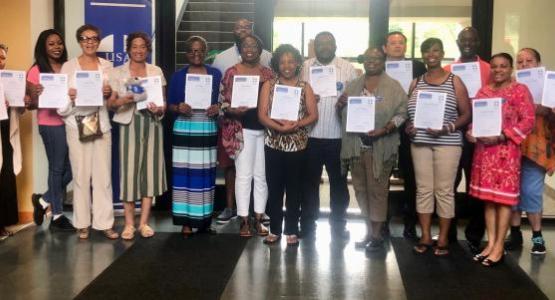 Conference Hosts Mental Health First Aid Training
August 29, 2019 ∙ by rbacchus ∙ in Allegheny East Conference
Story by LaTasha Hewitt
For the first time, the Allegheny East Conference's Relationship Ministries Department hosted an eight-hour Mental Health First Aid training at this year's camp meeting. Attendees learned initial skills to provide support to individuals with developing mental health or substance use problems and how to connect them to appropriate care.
"We provided this training because mental health concerns in our church often go unaddressed," explains David Defoe, AEC's Relationship Ministries director, who taught the class. "We wanted to create an environment where our members feel equipped to recognize mental illness and be in a position to offer help."
The training addressed the church's tendency to "overspiritualize" mental health issues. "We don't talk about mental illness or emotional health in church the same way we talk about physical health," says Defoe. Programs such as this are believed to help destigmatize mental illness, raise awareness and empower people in sacred spaces to be on the front lines of meeting mental health needs.
Each of the attendees left the training with a certificate, signifying their new skills in assessing for risk of suicide or harm, listening non-judgmentally, giving reassurance and information, and encouraging appropriate professional help, self-help and other support strategies.