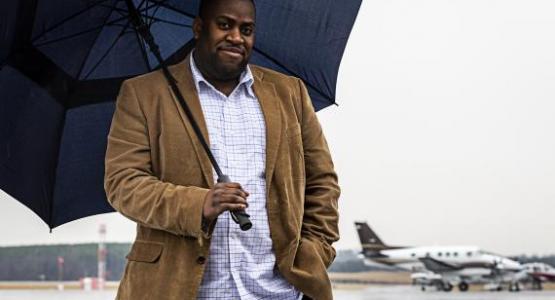 About Face: Second-Career Pastors Change Course For Ministry
March 02, 2020 ∙ by Web Administrator ∙ in Columbia Union News, Chesapeake Conference, Pennsylvania Conference, Potomac Conference, This Month's Issue
Story by Edwin Manuel Garcia / Cover Image by Eric Kayne/AP Images
M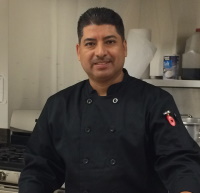 arco Estrada had no idea he would end up being a pastor. "As a matter of fact," he said, "my dream was to be a soldier." 
But God had other plans. Estrada, who was raised Catholic, immigrated to Atlantic City, N.J., from Mexico at the age of 15, and worked as a cook at a casino for 14 years. After enlisting in the Lord's Army, he decided to return to Mexico to attain his bachelor's degree in Theology from Montemorelos University.
He has been a pastor the last seven years in New Jersey Conference's Camden Spanish church, where he still enjoys using his culinary skills to cook meals for the congregation.
Second-career pastors are becoming more common across the North American Division and the Columbia Union Conference. In fact, about one-third of students enrolled at the Seventh-day Adventist Theological Seminary in Berrien Springs, Mich., are studying to be pastors after leaving another career, says Ivan L. Williams, Sr., director of the division's Ministerial Association.
The number of these non-traditionally trained pastors is increasing as fewer undergraduate students study theology and newer converts abandon their careers to enter the ministry.
Gene Donaldson, ministerial director and chief recruiter of pastors for the Allegheny East Conference, says at least a quarter of the 120 full-time pastors from the conference came from different careers, and they are enriching their churches, a similar statistic to other conferences.
He appreciates their maturity level. Most people who become second-career pastors "are usually very clear about the fact that they feel the Lord has called them," Donaldson says.
Here are the stories of four other ministers who joined the pastoral ranks in the Columbia Union after working in other careers: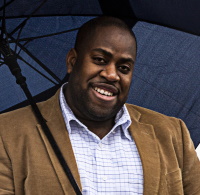 KOSLY JOSEPH: GENIUS PASTOR
Though Kosly Joseph may not have seen his future as a pastor, multiple people questioned if he had considered the ministry or if he was a pastor before becoming one. Once during an employee review while serving as an air traffic controller (ATC), his boss told him he was a great worker, but asked, "Have you ever considered the ministry?"
Joseph's past careers as an ATC, an educator at a technical school teaching multimedia classes and a "Genius" at an Apple store have come in handy in his new line of work. 
He aims to deliver 20-minute sermons because he remembers that in his previous teaching job, if he spoke longer, he would lose the students' attention.
"If you're in my church, you're not going to fall asleep because I walk all over the church," says Joseph, the pastor of Potomac Conference's Charlottesville and Harrisonburg congregations in Virginia. "I'm looking at each and every member, and as I get closer to them, people naturally sit up because they know that I'm going to ask a question."
For a sermon on David and Goliath, Joseph walked to the left side of the sanctuary to preach from David's perspective, then scooted to the right of the sanctuary to preach from Goliath's perspective.
"The science behind it for me is, as I move side to side, they're naturally more alert because their eyes are moving," he says.
While employed as an ATC, Joseph refused to work on the Sabbath, which resulted in discipline, until he realized he needed to abandon the career altogether. That painful experience, though, has been useful in understanding congregants when they confront Sabbath work issues. It's a useful experience and much different than that of pastors who majored in theology, served in churches, attended seminary and never encountered Sabbath work complications.
Working at the Syracuse, N.Y., Apple store as a "Genius" taught Joseph a wealth of knowledge about troubleshooting computers and handheld gadgets, as well as developing exceptional customer service skills.
He also learned to treat customers with respect and take care of their needs. "If we create a church where our guests come in and we exceed their expectations," he says, "they are highly likely to come back."
He also keeps technical skills sharp, sometimes helping members with their computer and iPhone issues, saying, it's a great way to make inroads.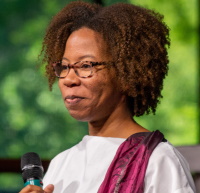 LERONE CARSON: A NATURAL FIT
Lerone Carson followed her passion for psychology into a successful career in the business world where she helped companies develop, manage and analyze projects designed to improve employee engagement.
"I love working with people. I love the way the mind works and observing how people make decisions and what influences happiness and suffering that people experience," she says. "Psychology was a natural fit."
At the Gallup Organization, she often worked with public and private sector clients to identify specific behavioral needs of employees, then proposed ways to improve their productivity. Later in her career, at a startup, she was responsible for reviewing data collected from employees and identifying ways to reduce turnover at health care organizations.
On weekends, meanwhile, Carson was an active volunteer with Children's Ministries programs at Chesapeake Conference's Spencerville church in Silver Spring, Md.
One day in late 2016, church leadership approached her about joining the ministry staff as the pastor for children and families.
"My intent was to continue in psychology. However, I received that calling and prayed about it, consulted with my family and friends and felt that that's where God was calling me at that time," she recalls.
In early 2017, Carson, the daughter of a pastor, became a pastor herself and has found ways to apply what she had learned in organizational psychology.
Carson, for example, frequently checks in on the health of the church's pastors who are responsible for different ministries. "A lot of my interest is on ensuring that our team environment is one in which we function at our best, so I'm always concerned about how my teammates are doing, because a lot of what happens at the membership level trickles down from the top. The same goes for the leaders within our Children's Ministries Department, because I know that if the leaders are doing well, they will be more engaged in their interactions with the children and their families."
It's also easier for her to read how church members are doing. "There are certain indicators and behaviors that can identify engaged from disengaged—whether it's employees, members, families—and I tend to pick up on that maybe a little quicker than others."
She's now working on a new initiative to create an advisory team that could step back and assess the overall health of the Children's Ministries Department and learn how to best serve families based on their needs.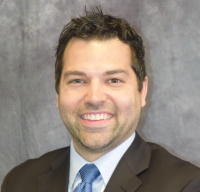 JASON DIETZ: LEAD FROM THE FRONT
Sgt. Jason Dietz, the heavily armed leader of a four-man U.S. Army combat team fighting to help Iraqis regain control of their country, was on a high-stakes assignment in late 2007. Jumping from rooftop to rooftop in a Baghdad neighborhood, he was responsible for protecting a larger team of soldiers from enemy fire as they moved closer to a house across the street that was the focus of their mission.
Then the unexpected happened.
A roof collapsed, sending Dietz and the 80 pounds of equipment on his body pummeling to the hard ground two stories below, shattering his ankles. He was only 21 years old at the time.
Shortly after being medically discharged, Dietz, who considered himself a "Catholic in name," sat at home recovering from his injury, pondering his future and wondering about the topic of mortality. "What happens when you die?" he asked.
His search for answers led him to Pennsylvania Conference's Erie church, then baptism, evangelism school, chaplaincy, Andrews University (Mich.) for a theology degree—and back to the Erie church where he is now the pastor.
He is grateful for the military experience and how it's helped him as a minister.
"One of the most valuable skills when it comes to leadership [is] leaders always lead from the front; leaders are the ones setting the example. You never want anybody doing something that you yourself wouldn't feel comfortable doing or wouldn't do—that's one of the pinnacle things I learned from my previous job that directly helps me in pastoral ministry and pastoral leadership."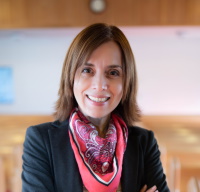 THEREZINHA BARBALHO: BOTH SIDES
Therezinha Barbalho grew up in Brazil and wanted to be a pastor more than anything. But after graduating from the Adventist seminary, she faced difficulty finding pastoral employment beyond being a Bible worker, due to the region's attitudes toward women in ministry.
She realized her dream career wasn't going to happen, so she went back to school and became a lawyer.
Years later when Barbalho and her husband sought better medical care than Brazil could offer for their daughter who has autism, she sent her pastoral résumé to conferences in the United States. She was offered a job as a Bible worker at New Jersey Conference's Luso-Brazilian church in Newark in 2004, then promptly became the associate pastor.
She later moved to the Potomac Conference to be the senior pastor of the Richmond (Va.) Brazilian church, then attended seminary, and today is the senior pastor of three Maryland churches: Silver Spring, Gaithersburg and National Brazilian, also in Gaithersburg.
The experience from her previous career has helped Barbalho present a good argument when making her case in sermons. "For me, to make a case, you have a point to develop from the Bible," she says, "so I do use it to advocate for Bible principles."
The legal experience has also been useful in handling interpersonal conflict between members.
"An attorney not only has an organized way to handle problems, but also … we were taught how to see further as we go to find a solution for something," says Barbalho, who, for seven years, practiced as a civil lawyer dealing with contracts and copyrights.
She finds it easy to be impartial when mediating disagreements.
"As an attorney, I have to see both sides. I'm trained for that," she says.
Read these articles from the March/April 2020 Visitor: