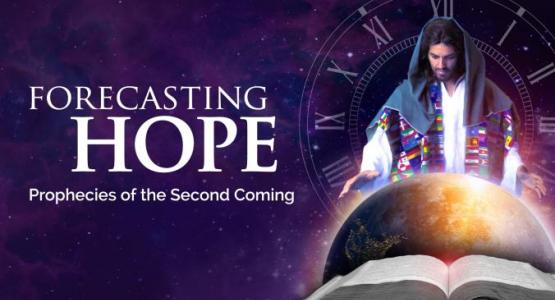 Forecasting Hope Starts October 9
September 02, 2020 ∙ by vmbernard ∙ in UpFront, Chesapeake Conference
Story by Chesapeake Conference Staff
With the coronavirus pandemic impacting everyone's lives, and economic instability breaking down the securities many rely on, the Bible has become the focus of curiosity to a new generation. According to Google Trends, searches for biblical topics such as "End Times" and "The Second Coming" have risen five times higher than in any previous year.

Many pastors have the desire to conduct online evangelistic meetings, but may not have the necessary equipment or resources to do it themselves. In response to this need, SermonView has organized a nationwide online evangelistic series, starting October 9, and is available to any church or individual in the North American Division. With sponsorship from the Columbia Union Conference, the Chesapeake Conference will provide sermons, aimed to appeal to those filled with fear and anxiety, from David Klinedinst, director for Evangelism and Church Growth.
"My hope is that these messages will present the prophecies of the Bible in a Christ-centered, positive, relational and hope-filled way, and point them to Jesus and for the Holy Spirit to move them to make a choice for Him," says Klinedinst, who adds, "We'd like to see members inviting their friends, family, co-workers and others interested by sharing this on social media and directing people to the Forecasting Hope website."
With SermonView's technology, local church leaders will have the ability to keep in touch with their church interests from the beginning to the end of the meetings. Each church will have their own live stream website where participants can watch the nightly programs. The site will allow viewers to submit questions, prayer requests, request Bible studies or request a free book. 
Visit forecastinghope.org/host to register a church. Individual registration will open later in the month.
Read these articles from the September/October 2020 Visitor: