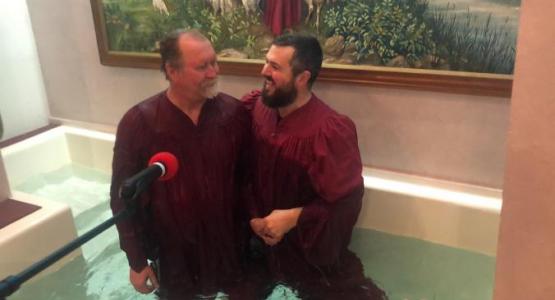 A Growing Church, and an Answered Prayer
February 04, 2020 ∙ by vmbernard ∙ in Pennsylvania Conference
Story by Katie Fellows
As the time neared closer to the start of their monthlong series, Tom Stone, pastor of Pennsylvania Conference's Reading Kenhorst Boulevard church, welcomed 40 church and community members alike for opening night.
"The first night of the series was great," says member Roque Rojas Jr. "I liked how the guests were a mixed group of community visitors, church members and even visiting members from other churches."
Dennis Nowakowski, a recently baptized new church member, attended almost all of the meetings during the Final Events Prophecy Seminar. As a huge fan of his state football team, he even came on the nights his favorite team was playing.
When Stone asked him how he had heard about the event, Nowakowski told him, "I kept driving by the signs on the side of the road and felt I just had to come."
Stone says, "This was a direct answer to prayer! We had been praying that God would compel people to come out to the event. We have been praying God would put shining lights around the mailers, signs and Facebook advertising. He answered our prayers!"
Stone continues, "Nowakowski is still involved in Bible study and is joining in our ministry already!"
Leading up to the evangelism series, the church followed a five-step process to emphasize their friendly and open church culture and connected with their neighbors and community through service and seminars.
"We've done things in the past that frankly haven't worked," says Stone. But the church stepped up to the challenge to be more intentional in connecting with their community through health seminars, street ministry and their food bank ministry.
Although initially overwhelmed by the additional work that went into preparing for their new approach to evangelism, Stone and church members worked with SermonView Evangelism Marketing on a campaign that included direct mail and social media marketing. This led to guests attending the series.