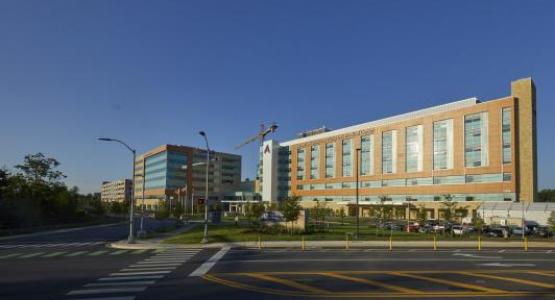 White Oak Medical Center Celebrates First Year
August 27, 2020 ∙ by vmbernard ∙ in Adventist HealthCare
Story by Adventist HealthCare Staff
On Aug. 25, Adventist HealthCare White Oak Medical Center celebrated its first birthday and a year of providing care to its community through more than 51,000 total patent visits.
"White Oak Medical Center's first year has been full of joy, excitement and blessings, as well as constant change amid the unprecedented COVD-19 pandemic," said Anthony Stahl, president of Adventist HealthCare White Oak Medical Center. The hospital opened on Aug. 25, 2019 after moving from its former Takoma Park location where it had been for more than a century.  
The 180-bed 472,000 square feet facility features private patient rooms, state-of-the-art equipment and technology and calming nature views and natural light. The hospital is recognized for award-winning heart care, a legacy of heart care firsts and regarded for offering e most advanced, least invasive heart procedures with skill, and compassion for nearly 60 years. White Oak Medical Center also provides high-quality Emergency, Stroke, Maternity, Cancer, Surgical and Orthopedic care.
During the first year, White Oak Medical Center reached exciting milestones caring for the community:
·       More than 51,000 patient visits.
·       More than 35,000 emergency department visits.
·       More than 10,000 patients admitted to the hospital for care
·       More than 4,000 surgeries performed in state-of-art operating rooms
·       More than 1,800 babies delivered at the Birth Center
·       Nearly 100 volunteers served almost 13,000 volunteer hours through early March.
·       More than $900,000 contributed by generous donors
Nearly six months after opening the Silver Spring hospital, White Oak Medical Center was presented with responding to COVID-19. "We never would have imagined we would be facing a global pandemic during our first year," said Stahl. "COVID-19 presented healthcare workers across the nation with unique challenges and I am so proud of how our team came together to serve our community with resourcefulness, determination, and courage."
Within the next couple months, White Oak Medical Center will add healthcare services and additional care spaces. The Medical Pavilion at White Oak, a seven-story medical office building located on the hospital campus, will be home to a Cancer Center, primary and specialty care physician offices and other hospital departments. In addition, twenty private patient rooms and two more Labor and Delivery Rooms are under construction within existing space and will be ready for patients later this fall.
"We are grateful for the support and generosity our community has shown White Oak Medical Center during our first year," said Stahl. "We are looking forward to improving the health of our community as we serve our patients and extend God's care for generations to come."