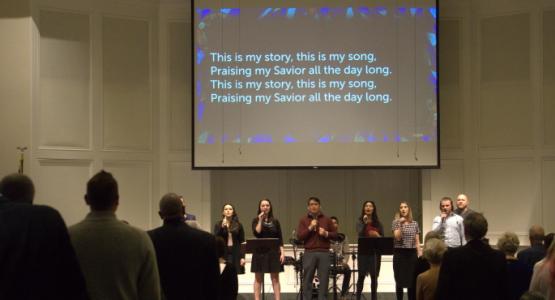 Worthington Church Fuels Warm Community
July 29, 2020 ∙ by Web Administrator ∙ in Ohio Conference
Story by Heidi Shoemaker
Keychain Leadership; Empathy Today; Jesus' Message; Warm Relationships; Prioritize Everywhere; Best Neighbors—these are the six core commitments at the foundation of building a Jesus-centered community and at the heart of the Growing Young Adventists (GYA) initiative within the Ohio Conference.
Introduced one year ago under the leadership of GYA-certified presenter and conference Youth Director Edward Marton, GYA is going strong in more than 10 churches across the state. "This is not the next 'new' program or fad; we are not starting a new church," shares Marton. "This becomes part of the church's own culture."
The Worthington church chose to focus on the Warm Relationships commitment, where they aim for peer and intergenerational friendships rather than stylish worship or programs.
Many years prior to embarking upon the GYA journey, Senior Pastor Yuliyan Filipov worked with church leadership in casting a new vision for Worthington. Recognizing a disconnect between the generations, he found ways to encourage mentorship, discipleship and love for others within his congregation. Understanding many churches were at risk of being "one generation away from extinction," he began a journey to build a "lasting spiritual legacy."
This journey was strengthened in recent years with the addition of Youth Pastor Jeremy Wong and his chaplain spouse, Brooke, to Worthington's leadership team. The couple made youth a priority in the church budget, creating a place where youth wanted to belong.
According to Wong, youth programs are strongly supported by the church. Last year, 15 young people decided to be baptized—a direct result of Worthington's emphasis on growing younger and fostering intergenerational relationships.
Socials are structured to build intergenerational relationships through the context of having fun together organically, yet intentionally. As a result of these efforts, many young adults have shared that Worthington "is home."
This past February, Filipov and his team took relationship building to the next level by modifying their Sabbath routine. Sabbath mornings now begin at 9 a.m. with a prayer breakfast open to all members. This is followed by Sabbath School, then a combined worship service at 11 a.m. During the first week of this new schedule, more than 300 people attended the worship service. Filipov has also noticed new faces among those in attendance and several who returned to the church after hearing about the changes.
Prior to the COVID-19 pandemic and subsequent restrictions impacting social gatherings, Wong observed church leadership and parents adopting and sharing the legacy vision, working together to create a space for people of all ages to grow and thrive. During the pandemic crisis, he has transitioned this work to virtual platforms and has been successful retaining those relationships.
Worthington will soon celebrate their 100-year anniversary, as their lasting spiritual legacy will continue to provide hope for all ages.