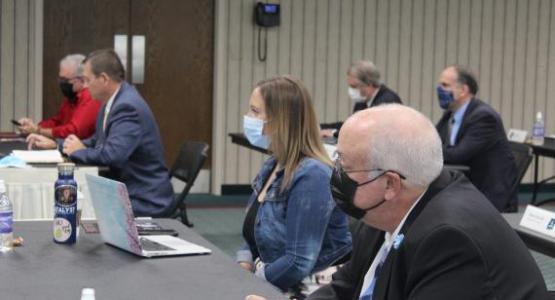 Fall Evangelism Efforts Kick Off Across Union
September 22, 2021 ∙ by vmbernard ∙ in Columbia Union News
With a majority of churches throughout the Columbia Union Conference holding in-person services, many are hosting fall evangelism efforts.
"One of the most important things we do at the union is to help advance evangelism," said Dave Weigley, union president, at the recent Columbia Union Executive Committee meeting.
At the meeting, presidents from the union's eight conferences shared how members in their territories are working to share the love of God in tangible ways.
Allegheny West Conference
During the pandemic, the Allegheny West Conference equipped their churches with the tools to ensure that, when worshipping in person wasn't an option, all churches could broadcast their services.
While they couldn't do traditional evangelism during much of this time, Marvin C. Brown III, president, said that evangelism is taking place by meeting the needs of the community with food drives, food festivals, community baby showers, vaccination clinics and more.
Chesapeake Conference
Fifty churches in the Chesapeake Conference are conducting evangelism this fall, many with public meetings. In addition to this, members are hosting 71 Spanish language small groups in their homes, reported Jerry Lutz, president.
Conference staff has also repurposed their last large evangelistic effort, Forecasting Hope, into 10 to 15 segments that can be shared in new ways.
Mountain View Conference
This summer, the Mountain View Conference started the "Tell Somebody About Jesus" initiative, designed to inspire members to share the gospel with those around them.
Tim Bailey, president, shares that the conference has started a lay Bible training school and is working to nurture a culture of grace in their churches. "Each one of our pastors have committed to give five Bible studies a week and to hold an evangelist series within the next calendar year," he said.
New Jersey Conference
Over the past year, the New Jersey Conference has planted several new churches, and is continuing to plant more.
Though hit hard by the pandemic and Hurricane Ida, members continue to serve through meeting food and cleanup needs. They have also embraced digital evangelism efforts like Encounters of Faith and Hope.
Jorge Aguero, president, shared that, over the last year, pastors and churches have celebrated baptisms almost every Sabbath.
Ohio Conference
Ohio Conference members have celebrated 740 baptisms so far in 2021 and have embraced the 2023 Initiative, in which they want to see 2023 people baptized in Ohio by their next constituency session in 2023.
Bon Cundiff, president, said he was overwhelmed when 80 percent of church boards responded with self-imposed voluntary baptismal goals for the next couple years, indicating they wanted to actively participate in the initiative.
They are also planning to partner with the Allegheny West Conference in 2023 to participate in a large evangelistic initiative in Columbus, in addition to hosting meetings in each of the five metropolitan areas each year.
Pennsylvania Conference
This summer, the Pennsylvania Conference experienced unprecedented giving during the annual evangelism offering at camp meeting.
After providing Bible training sessions, pastor training, an evangelism training school and hiring a social media evangelism expert, the Pennsylvania Conference anticipates hosting 135 in-person meetings across the territory this fall.
Potomac Conference
Noting that although many Potomac Conference churches couldn't meet in person during the pandemic, Charles A. Tapp, president, said they continued to minister. "Our churches left the building to expand the kingdom of God as we continue to grow beyond the walls. Not just the physical walls ... but walls of racism, walls of sexism, walls of personal preference."
Some of the ways the churches did this was through parking lot vaccination centers, health fairs and the services of Adventist Community Services.
A representative from the Allegheny East Conference will share on their fall efforts soon.