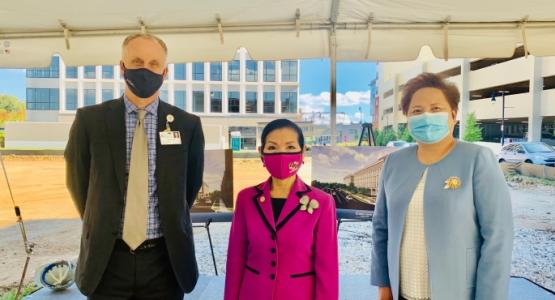 March 22, 2021 ∙ by Web Administrator ∙ in Adventist HealthCare
Story by Adventist HealthCare Staff
In October 2020, Adventist HealthCare broke ground on a five-story, 97,000 square foot medical office building at National Harbor in Oxon Hill, Maryland, near Washington, D.C. The medical destination will be home to a full range of specialty and preventative care services easily accessible from Washington, D.C., Maryland and Virginia.
The new facility will complement Adventist HealthCare's newest acute care hospital, Fort Washington Medical Center, and its new primary care facility, which are both located a short drive from the Harbor.
Comprehensive services that will be available at the new facility include: an ambulatory surgery center offering orthopedic, ophthalmic, cardiovascular and general surgery; diagnostic imaging services; a cancer center offering breast, colorectal and prostate care; as well as a vascular clinic, catherization lab, rehabilitation center and wound care treatment.
The expansion adds to the overall plan for modernization and growth of Fort Washington Medical Center. The plan includes substantial upgrades to the hospital's existing campus, IT infrastructure, and surgical services to culminate with a new facility.
"The investment is part of the commitment that Adventist HealthCare made when it acquired the community hospital in 2019," Adventist HealthCare President & CEO Terry Forde said. "Together, the facilities will provide the critical services that are essential to meeting the healthcare needs of patients we serve in southern Prince George's County."