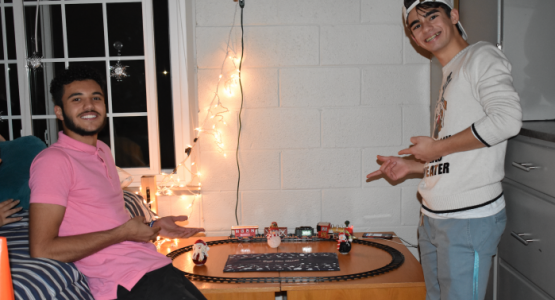 Highland View Academy Feels Like Home
February 24, 2021 ∙ by rbacchus ∙ in Chesapeake Conference, Education
Story by Andrew S. Lay
Students who don't live within driving distance of a nearby Seventh-day Adventist academy can still obtain a great Adventist education by living in a dormitory, such as Chesapeake Conference's Highland View Academy in Hagerstown, Md. This arrangement not only offers families more convenience, but it gives students the opportunity to enjoy the entire academy experience—from breakfast in the morning through recreational time or sports practice in the evening.
Considering dorm students are "at home," they have the opportunity to join dorm worships, spend more time with friends and do homework in quiet locations—all without leaving the school campus.
Stephanie Jaqua, a Highland View Academy (HVA) senior, describes some other advantages of living on campus: "We always help each other out with homework, and the deans are also always available to help in any way. We enjoy fun events like Girls' Club, Galentine's—around Valentine's Day—home leave parties and more. Going out in the school vans to get a treat is always so exciting. We play music and sing along during our small trips. Both deans are so kind and considerate, always planning activities for us to be occupied or even time to relax." To watch more of Jaqua's dorm experience, visit hva-edu.com, or search for "HVA Feels Like Home" on HVA's YouTube channel.
Students who live in DeHaan Hall and Hartle Hall—the girls' and boys' dorms, respectively—have the freedom to enjoy the amenities on campus: the workout room, weight room, computer labs, dorm kitchens and front lobbies. Dorm students can also participate in boys' or girls' club activities and make trips to Black Rock or a portion of the nearby Appalachian Trail.
"Living in the dormitory throughout my four years at HVA deepened my experience by helping me to develop closer bonds with my friends, learn time-management skills and how to be more independent," says Luke de Goede, a former Hartle Hall resident ('18). "I realized how much it helped me when I got to college and was already accustomed to living by myself, making my own schedule and staying focused, while other students struggled to adapt to college life and being away from home. I have so many great memories from living in the dorm and will hold many of those friendships for life."
To learn more about dormitory living, visit hva-edu.com, and click on "Residence Halls" in the Student Life tab, or follow DeHaan Hall's Instagram page: instagram.com/dehaanhall.