Love Makes a Difference, Leaves a Legacy
June 08, 2021 ∙ by Web Administrator ∙ in Ohio Conference
Story by Kasper Haughton Jr.
Robert "Bob" E. Scovil wasn't interested in talking "religion" but in seeing how it was lived.
Born January 17, 1927, Bob was a World War II veteran, businessman and leader in his local community. He was a family man too—devoted to his wife, Cecilia, and son, Steve. Though Bob loved so many things during his 93 years—his family, country and hometown of Dayton—he had a hard time warming up to church.
He used to say, "As a child, I had all the church I needed." Yet, because of his love for Cecilia, he drove her to church weekly, waited in the car and drove her back home.
After Cecilia passed away, Bob's health deteriorated, so he moved in with Steve and his wife, Charla. One day, Charla invited Bob to her church— the Beavercreek church—to watch her practice a piano and organ duet. To her surprise, Bob agreed to go. At the end of the trip, tears slid down his face as he recounted how his wife had also played the organ for church. After that experience, as Charla left for church each week, Bob would ask, "Say a prayer for me, please."
Recently, Bob, Charla and Steve all experienced a period of serious health issues. Members from the Beavercreek church and several other local churches took up the ministry task of caring for the family. The kind members took a genuine interest in Bob, and he looked forward to their visits.
After that season of ministry and recovery, Bob accepted an invitation to attend church with Charla and Steve—but only "on special occasions." Whenever he attended, he was greeted warmly and was included in social events. Rather than just talking "religion," he experienced it "in action" through the relationships he had built with the caring church members. Love had made a difference in Bob's heart. The day before he passed, Bob held Charla and Steve's hands as they sang a hymn together.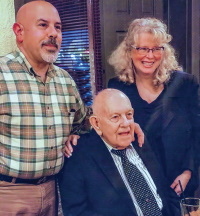 Prior to his passing, Bob, along with Steve and Charla, reached out to the Ohio Conference Planned Giving Department to see how they could continue to bless the ministry at Beavercreek and other ministries across the conference that are dedicated to sharing Christ's kindness and love with others. Love made a difference in Bob's life, and it will continue for generations to come.
Planned Giving departments across the Columbia Union are intended for these kind of conversations and stories. Church members are provided estate planning, wills and trust services—free of charge. For more information, contact Harry Straub, director of the conference's Planned Giving Department, at hstraub@ohioadventist.org.