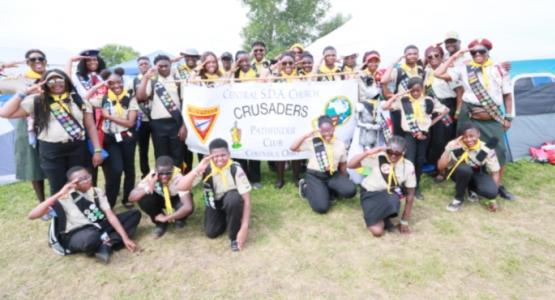 Pathfinders Raise Funds for World Vision Project
March 24, 2021 ∙ by Web Administrator ∙ in Coronavirus Pandemic, Allegheny West Conference
Story by Benia Jennings
Last year, the Central Crusaders Pathfinder Club of Columbus, Ohio, decided to help an international family with a donation of an animal through the World Vision gift catalog. An animal, such as a goat or chicken, provides milk or eggs that can be used to nourish the family, or even sold to help with household finances.
The group's goal was to raise $200. At each weekly Pathfinder meeting, they collected spare change. By March 2020, they had made $12. Then the coronavirus pandemic hit, and they were forced to suspend in-person meetings. When meetings resumed via video conference in November, the $200 goal seemed to be out of reach.
By mid-December, however, they had collected more than $600. Encouraged, they solicited even more donations, this time from their local congregation—Central church. The contributions were enough to purchase a set of goats and two chickens each for seven families.
The Crusaders also continued their service to the community. Their drum corps played for several senior citizens' birthdays and for the frontline workers at the Ohio State University Hospital.
"Despite changes to their regular routine," lead counselor Patricia Fountain says, "these Pathfinders strive to be servants of God by being friends to all people."