Spencerville Adventist Academy Students Participate in International Symposium
April 28, 2021 ∙ by rbacchus ∙ in Chesapeake Conference, Education
Story by Heidi Wetmore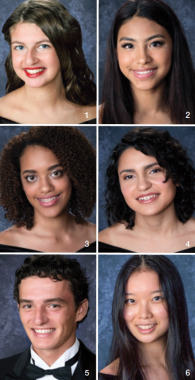 Late January, a group of seniors from Chesapeake Conference's Spencerville Adventist Academy (SAA), along with other selected students from the conference, participated virtually in The Hague International Model United Nations (THIMUN) symposium, held in the Netherlands. SAA representatives Angela Coppock (1), Bela Fuentes (2), Darysa Naranjo-Gregory (3), Heather Hernandez (4), Luke Smith (5) and Abby Shim (6) attended this international experience.
The Capital Model United Nations (CAPITALMUN) conference, sponsored by the Honors College at Washington Adventist University (WAU), handpicked these SAA student scholars to attend the THIMUN symposium.
Similar to CAPITALMUN, but from an international perspective, THIMUN allows hundreds of students to meet, debate and resolve real global issues faced by the United Nations. This year's team from Chesapeake represented the nation of Ukraine and required extensive preparation before attending the session.
According to C. Jonathan Scriven, director of CAPITALMUN, the vision of the program is to continue hosting and expanding the regional CAPITALMUN program at WAU, while selecting students from that symposium to attend the THIMUN in person in 2022.
Participant Shim shares, "Preparing for THIMUN was really engaging and exciting! Since it's the first time any Adventist school has been represented, we definitely felt a little nervous. The topics were interesting to research, especially since they were so relevant and current. I was eager to see the scale of the event as well as debate our resolutions."
Hernandez adds, "I'm very honored to be a part of THIMUN. It was incredibly fun and was nice to connect with other students from different schools."
Marty Cooksey, SAA History teacher and sponsor, says, "We have excellent scholars here at Spencerville and throughout the Chesapeake Conference who demonstrate their shared abilities in critical-thinking skills. The environment of the Model United Nations projects, created and hosted by Dr. Scriven and the Washington Adventist University Honors College, provides each with a unique opportunity in creative, collective problem-solving, working with real, current, United Nations challenges. I am very proud of our young minds, and look forward to their continued participation, both regionally and on the international stage in the Model United Nations programs."