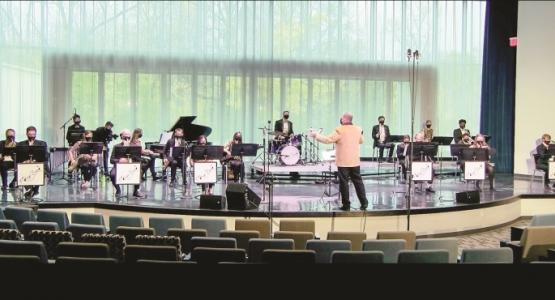 Stage Band's Long-Awaited Night at Spring Valley Academy Scores Big
May 12, 2021 ∙ by Web Administrator ∙ in Coronavirus Pandemic, Ohio Conference, Education
Story by Vicki Swetnam
Spring Valley Academy's (SVA) Stage Band spent the last part of 2019 and the first part of 2020 preparing for their Benny Goodman fundraising concert. Then, the pandemic hit.
Months passed until Donald Huff, SVA band director, finally received clearance for the concert. Staff and students made proper preparations, brought in equipment and obtained professional videographers for a "live recording session." Huff issued stern orders to the band: "Everyone, stay six-feet apart, keep using hand sanitizer and stay heathy!" No one expected that he would be the one with the COVID-19 scare.
Not long before they were to perform, band members received an email stating Huff had COVID-19 symptoms and would be tested. Like the many days and weeks before, band members feared the concert would be postponed again. But soon, another email shared the good news that Huff was in the clear. Recording plans were back on, but one more challenge existed.
Max Shull, the band's first trumpet who graduated last year and is now at Southern Adventist University (Tenn.), couldn't make it for the recording. This meant the band would be without a trumpet soloist. Not wanting to risk further setbacks, Huff decided to record the band playing on one night and record a separate video of Shull to be dubbed in during final production.
Finally the night arrived. The guys in tuxedos and the girls in swing dresses were ready to perform without further delay. The concert, based upon the Benny Goodman "Let's Dance" show that originally aired in the 1930s, started and ended with the song "Let's Dance," and included many other Goodman songs: "Moonglow"; "Bugle Call Boogie," featuring the trumpet quartet of trumpet teacher Chris Braun, junior Matthew Milks, freshman Sophia Schrodel and eighth-grader Zade Macintosh; and "And the Angels Sing," with SVA's new featured vocalist, eighth-grader Mia Cabansag.
"The 'A Tribute to Lionel' song was my favorite. I was able to try a new instrument—the vibraphone," says Ellie Sauser ('23). "Performing in front of the cameras with our videographer Sam Pomales was an exhilarating and memorable experience."
Airing nearly a year from its originally scheduled time, the band members listened to the concert as both audience and performers, experiencing the amazing camera angles and quality. Shull's solo went off without a hitch, and it was great to see how it all panned out. The band members agreed that they overcame the challenges the pandemic presented with quick thinking and hard work, while maintaining all necessary safety measures.
"Even though I prefer playing to a live audience," Sauser adds, "I believe that our Benny Goodman concert came pretty close!"