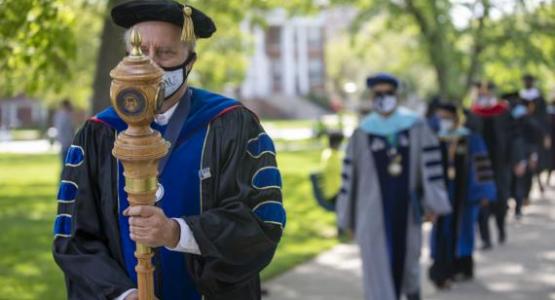 Washington Adventist University Celebrates 106th Commencement Weekend
May 06, 2021 ∙ by vmbernard ∙ in Washington Adventist University
Story by Shannon Smith
Last weekend, leaders at Washington Adventist University (WAU) in Takoma Park, Md.,  celebrated the many achievements and successes of students during their graduation ceremonies. It was the first commencement since 1904 to be held on the campus commons.
"On this the 106th Commencement Weekend, 275 students will receive a variety of graduate, undergraduate, associate and certificates," said Weymouth Spence, WAU president. "Washington Adventist University is certainly a place where we produce graduates who bring competence and moral leadership to their communities."
Many could not attend the ceremony in person, having been displaced or relocated because of pandemic quarantine measures. Instead, they joined the live broadcast to celebrate virtually. Sihlé Sharrief-Hayward, president of the Class of 2021, attended the ceremony from her home country, Bermuda, but did not let the distance prevent her from addressing her fellow graduates.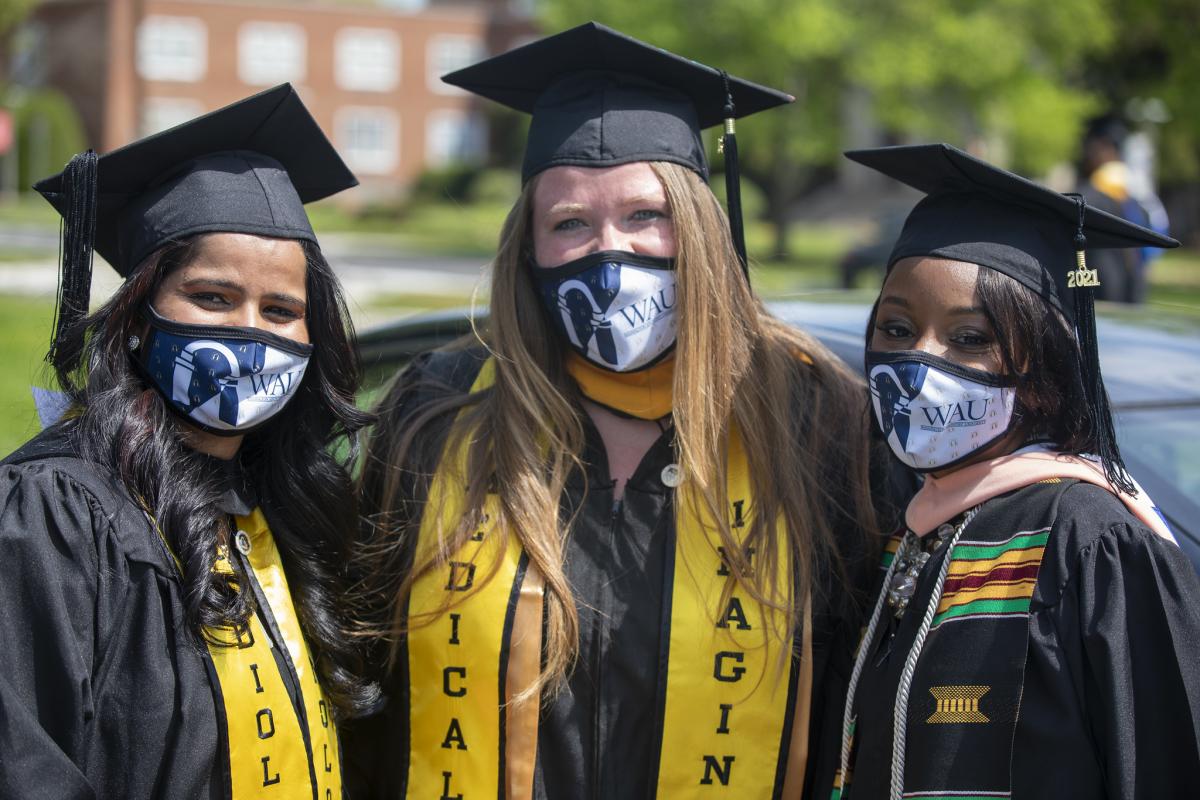 "Who knew that graduation would be in the middle of a pandemic," Sharrief-Hayward acknowledged. "With all praises to the Most High, we made it." She encouraged fellow graduates to continue to be persistent in their current goals or destinations, noting their determination to complete their degrees despite the pressures and uncertainties they faced during the last year. "So, as long as you keep in mind our class scripture, Galatians 6:9, and our class motto, PUSH (Persist Until Success Happens), the places we can go will be endless."
Before each of the graduates walked across the stage and received their diplomas, the speaker for the 2021 commencement ceremony, Bill Miller, a member of the WAU Board of Trustees, shared the message, "God's Places." Inspired by the 2021 class theme, Miller said, "Oh, the places you'll go. Shortly you will be escorted right through the gates of service—the Gateway to Service. Will the physical geography of the community you inhabit be transformed because you have decided that the inner geography of your soul is so connected to the God of heaven that they will put you in charge of all that they have?"
_______________________________________________________________________________________
WATCH RECORDINGS OF THE CEREMONIES ON WAU'S FACEBOOK PAGE
________________________________________________________________________________________
He continued, "The values of heaven are truth, equity, justice, honesty, integrity, mercy and compassion. … And so, the geographical world that you and I are a part of are in desperate need of these values to be lived out."
Nobel Peace Prize winner, Malala Yousafzai, a Pakistani activist and founder of the Malala Fund for girls' education, also addressed the graduates of 2021 via a video message: "You have achieved one of the most important things in your life, and this is your education. … Some of you will become doctors, engineers, composers and nurses, like my friend, Marie-Claire [Kaberamanzi, 2021 nursing graduate and fellow advocate for children's education]. But remember that education does not end here in university. … Continue learning throughout your life, not just from books, but from the people around you."
Hen
ok Tesfaye (pictured left with Spence), president and CEO of USP Parking, received the WAU 2021 Honorary Doctorate of Humane Letters. Tesfaye embodies the 2021 class motto, PUSH. With persistence and determination, he worked tirelessly as a parking lot attendant, and became the CEO of one the one largest parking company enterprises in the United States. He is passionate about giving back to the community that helped support him along his road to success. He is also the chairman and one of the founders of the non-profit organization, Mary Joy Foundation, which seeks to help children and seniors in Ethiopia have access to education and health care.